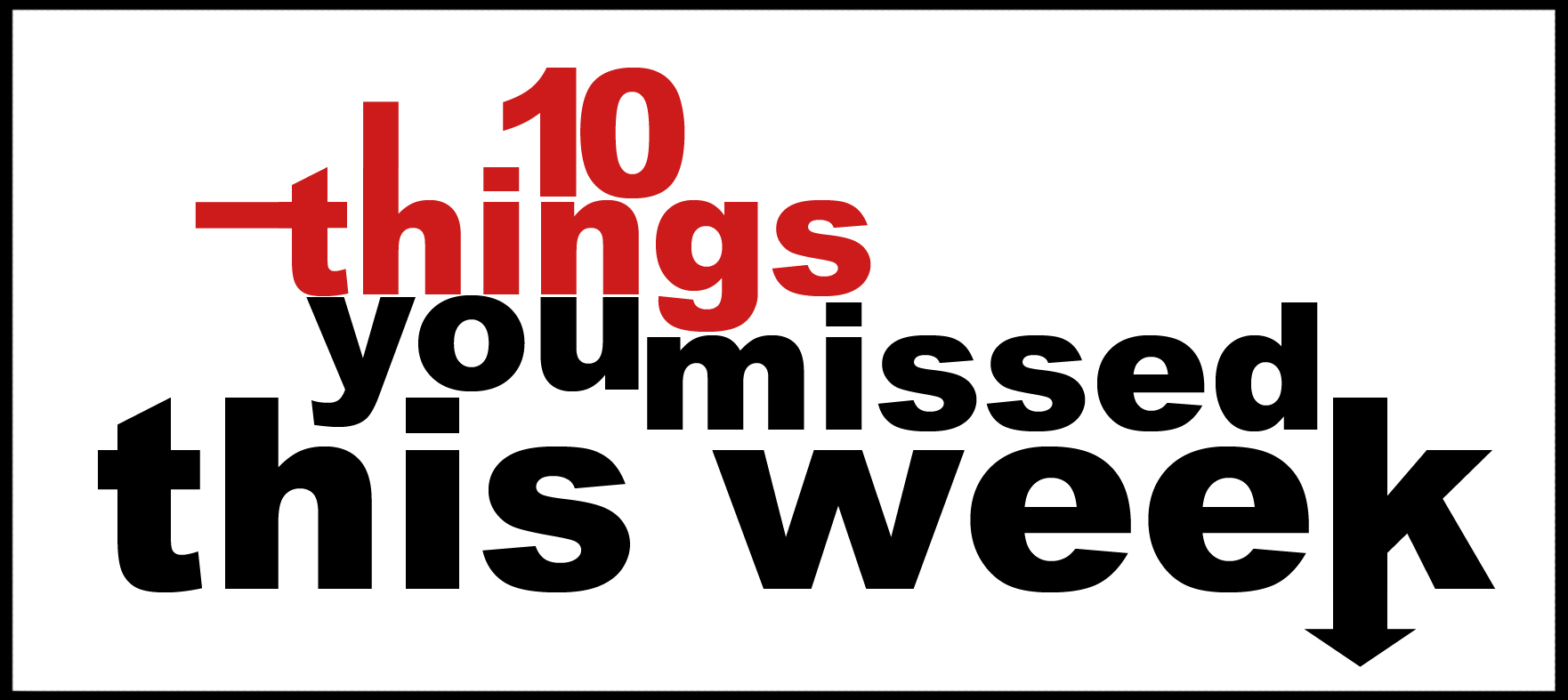 1. In The Shawshank Redemption (spoilers ahead, if you've not seen it), Andy Dufresne uses a book to aid his escape from jail. Now, Brazilian prisons are actively encouraging this exact behaviour in their inmates, cutting sentences based on the number of books read by prisoners. If you've ever read a bad book and thought "I'll never get that time back", now you can*! (*provided you get arrested in Brazil first)
RT @badbanana A watched neighbor never showers.
2. If you don't think astrophysicist Neil deGrasse Tyson is awesome, then the most likely explanation is that you don't know who he is. He's one of those rare people who is able to communicate scientific ideas in an intelligent yet accessible way. He's recently made this video for Congress to encourage them to re-invest in space exploration, and it's incredible. It's a call to arms that is both inspirational and pragmatic, and warns of 'the absence of ambition that consumes you when you stop having dreams'. Love it.
RT @ItsWillyFerrell Dear Fox News, I have yet to see any news about foxes. Sincerely, Disappointed fox enthusiast.
3. The Oatmeal has a pretty solid idea of how movie theatres should be laid out. It is inspired, and should be adopted immediately. (Although – small note – I've discovered that older cinema-goers are as likely to be noisy as not. But I still applaud the thinking behind this approach.)
RT @ovandenberg Pachelbel's T-Shirt Cannon in D.
4. With the tide clearly changing in favour of gay rights, it might not seem like a big deal that Oreo (yes, the American sweet cookie/biscuit) has come out in support of gay marriage, but it's actually quite a significant moment. Though it may win over much praise and appreciation, it's unlikely to win over a significant number of new customers; it is likely to turn off swathes of homophobic customers who will cease their purchases in protest. So kudos to the company for taking an unprovoked, moral stance. (via Scott Weinberg)
RT @EricDSnider Hey, Oreo! It's Adam and Eve, not high fructose corn syrup and soy lecithin!
5. I don't like corporate interests mixing with political interests, but if Oreo took over the running of Queensland from Campbell Newman, I'd actually celebrate. The recently-elected Premier is currently overseeing what's being referred to as the most significant rollback of gay rights in Western culture. Have a look at Crikey's rundown of what exactly is going on in the state.
RT @MooseAllain Mock Tudor is one of only a handful of satirical architectural styles.
6. Barack Obama's support of gay marriage, however, is not the issue that will get him re-elected; it'll be his ability to deal with an alien invasion. The National Geographic Channel contacted 1 114 adults in America to find out who they thought would best defend them against invading extra-terrestrials, and Obama appears to be the clear winner.
RT @EmmaJWestwood "All this talk about orgasms… We didn't have those in our day." ~my 92 year-old grandmother
7. In the wake of HBO's ridiculous overreaction to the George W Bush/Game of Thrones controversy, it raises the question: under what circumstances should artists apologies for what they've created? Here are fifteen artists who have done just that. (via Martyn Pedler)
RT @sixthformpoet You had me at "Hello, I've been drinking since lunchtime."
8. There's a lot of ongoing debate over which object/concept/event can be named The Greatest Thing Ever, but surely this must qualify: a German camera crew has followed directors John Landis and Terry Gilliam as they wander around London. They've placed three short clips online in anticipation of the actual program (Durch Die Nacht, which will air on July 7). Whatever the running time of the final product, I can already state with absolute confidence that it will not be long enough. (via Trailers From Hell)
RT @morrbeat Currently writing an "what-if" alternate history novel where Hitler won WWII after hooking up with Eva Braun's smarter sister Eva Brains.
9. Pixar illustrator Josh Cooley has drawn several scenes from 'adult' films in the style of a children's book. And many of them are pretty inspired. (via Shane Dunlop)
RT @robdelaney Whenever I fart on a first date I tell the woman "That's just my hug machine warmin' up." Then it's pretty much Fuck City.
10. There is a special joy that comes from online exchanges with someone who doesn't quite get the joke. Filmmaker James Gunn (Silther, PG Porn, Super) experienced that joy recently when a studio exec suggested that his song 'That Gay Fucking Cat' might not be an entirely appropriate name. So Gunn responded with suggestions of his own. And then published the correspondence on his website. (via Badass Digest)
RT @yumyumfish Pitch: "Steamboat" the gritty untold origin of Steamboat Willie. He sets sail only at the very end. All Steamboating is in the sequel. #
If there was any positive outcome from the news of filmmaker Nora Ephron's passing, it was the outpouring of adoration that was unleashed on Twitter. And rightly so. Ephron was a cracking writer, as evidenced by the New Yorker's collection of some of her best articles. There have been too many brilliant obituaries to link to, but this one from Tom Hanks and this one from Lena Dunham are both eloquent and personal. But most poignant of all? This list of the things that Ephron will and won't miss once she's gone.