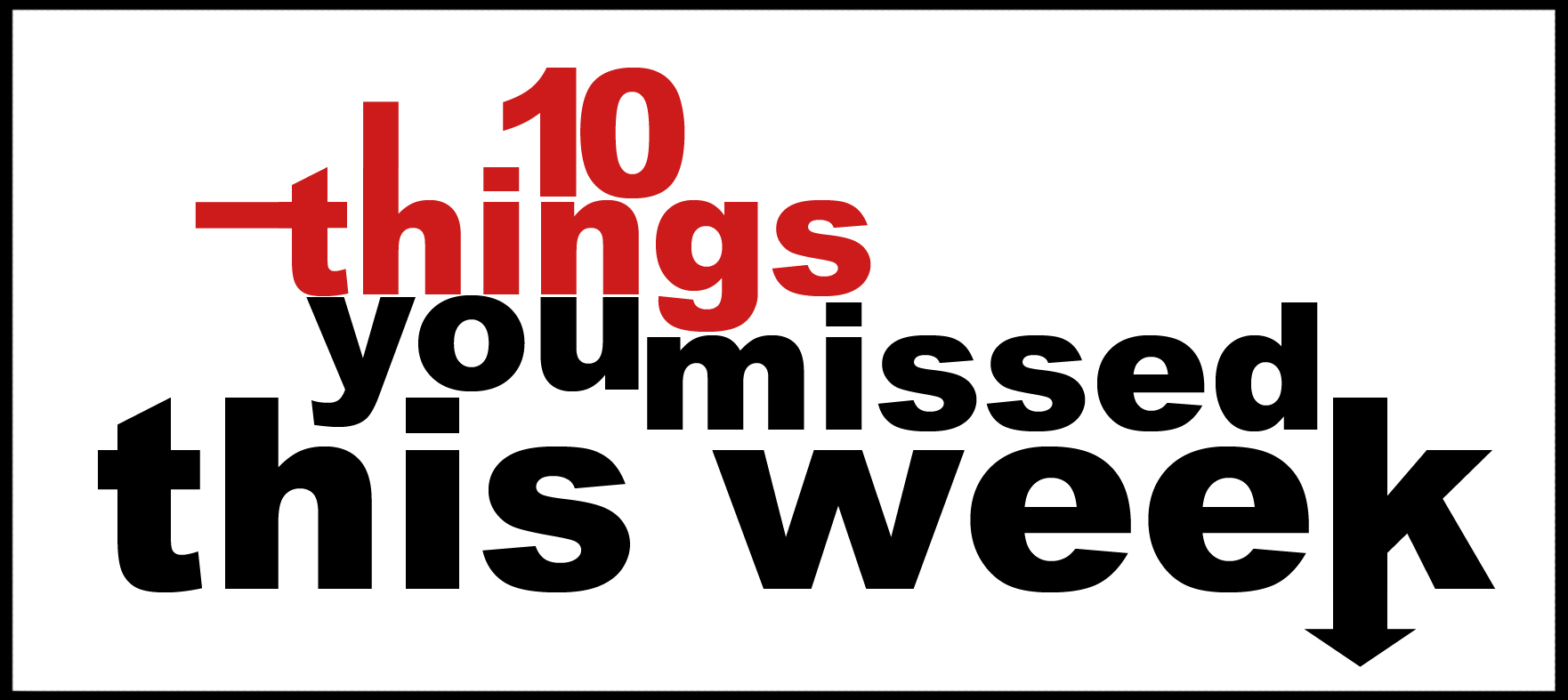 1. How much do cities change over a quarter of a century? These amazing satellite photos show how places such as Las Vegas, Tehran, Dubai and others have spread out since 1984. (via leLaissezFaire)
RT @stephbg What is the conversion rate of Oodles to Shitloads?
2. Holly has begun cleaning out her father's old boxes, containing work and sketches that go back decades. Sound boring? Well, her dad is Terry Gilliam, founding member of Monty Python, and genius filmmaker. Take a look at her blog as she shares her discoveries with the world. (via CHUD)
RT @the_cannyman I am roar. Here me woman
3. Presumably sick of waiting for Jennifer Lynch to volunteer at his storage unit, director David Lynch has volunteered a slew of facts about himself to the Wall Street Journal. Peek into life of the world's most enigmatic director and be delighted that he's exactly as you'd want him to be. (via Roger Ebert)
RT @ColinHanks Did Sean Connery ever find out who's the man now, dog? Once Dog the Bounty Hunter got his own TV show I figured it was him.
4. We're all pretty familiar with the Great Wall of China, even if we're not. There seems to be a stock photo that's always used; that standard pic of the wall snaking away in front of the camera as tourists mill about the edges. Given how long the Wall actually is, there's so much of it that the majority of us haven't seen. Until, of course, now. Take a look at these truly stunning photos. (via Leigh Paatsch)
RT @AlbertBrooks Congrats to Kim Jong Un on his wedding. What to get the man who confiscates everything.
5. I know that the Weekly World News – presuming that's still a thing – comes out with stories like this on a weekly world basis, but when it comes from a legitimate source, it's slightly scarier. Is this carcass that washed up on the banks of New York's East River a pig? A rat? Or some horrifying hybrid that will soon be taking over America's sewers? (via Joe Hill)
RT @ieatanddrink You'd be surprised how many girls you can meet by hiding in the straw dispenser at Wendy's
6. Jay Leno has a habit of appearing in films as himself in order to make fun of events contained within each film's story. But has he considered the impact of his jokes on these non-existent people? This video reveals the disastrous effects. (via Eric D Snyder)
RT @Waschanstalt Just saw a man with what had to have been a flat-ironed goatee. He must be the 'patient zero' of horrible choices.
7. If you're not up to date on the Chick-fil-A situation, it basically goes like this: some third-rate American fast food chain comes out against same-sex marriage; long-time sponsorship partners The Muppets immediately end the partnership, adding yet another reason to the already impossibly-long list of why The Muppets rules; then Chick-fil-A pretends that they ended the partnership because the Muppet toys were 'dangerous'; then, in what is the most ridiculous and funniest part of the story, Chick-fil-A does this. (via Vince Mancini)
RT @KimKierkegaard Magic Mountain fun today!! Kanye laughing & me crying! The whole of existence frightens me.
8. In 1987, a group of science fiction writers was asked to predict what life would be like in twenty-five years. Their predictions were then placed in a time capsule, and that capsule has now been opened. What do Isaac Asimov, Frederik Pohl, and a host of other notables think of life in 2012? (via Maria Popova)
RT @LILINTERNET 1) DO U CRY WEN UR DOG RUNS AWAY? 2) R U ANGRY WEN UR MOM SMOKES POT? 3) R U ALIVE? IF YOU ANSWERED "NO" TO ALL 3 U R THE SINGER OF SUBLEIME
9. When many of us claimed that Martin Scorsese's use of 3D in Hugo was possibly the best ever, we weren't kidding. And neither was Bruce Bridgeman who, after 67 years of stereo-blindness, suddenly found his condition cured by Scorsese's film.
RT @MyNameIsRazzle2 My stoner friends are into "Magic" Brownies. My nerd friends are into Magic:The Gathering, and now my gay friends are into Magic Mike.
10. By now, you've surely heard all the details of the shooting that took place at a midnight screening of The Dark Knight Rises in Aurora, Colorado. It was a truly horrific event that I actually avoided reading about for a day or two because the headlines on their own made me sick to my stomach. Naturally, most of the resulting commentary has been completely insane. None more than this guy, who apparently believes the whole thing was staged to bring about gun control. In saner waters, a few articles have focused on the fact that Batman never uses guns from this one in Wired and this one in The New Yorker. And away from the Aurora tragedy altogether, you might want to read Chris Nolan's farewell letter to the franchise, learn how to paint Batman, and discover how much it would cost to be Batman. (via Eric Snyder, Roger Ebert, Popcorn Junkies, Glenn Dunks, Ben Zachariah)
RT @ChrisCuzzy In one year, GUNS murdered 35 in Australia, 39 in England and Wales, 194 in Germany, 200 in Canada, and 9,484 in the United States.
Have an excellent double-Sabbath day(s), and be sure that you don't spend them sucking at your religion.