If there was some way for me to spend the year going from film festival to film festival, I would. I'd fill every day of the calendar year with festivals, and I don't even mean the likes of Cannes, Venice, Toronto, Sundance, etc (although those do factor significantly into this fantasy). I could probably manage this dream without even leaving the country. Not just the major capital city festivals (MIFF, SFF, BIFF, et al), but all the specialist festivals, from the horror-themed Hello Darkness festival, to the short film showcase St Kilda Film Festival, and the regional-themed festivals from the Italian Film Festival to the French Film Festival to the Spanish Film Festival to— well, there's a lot of them. And mainlining them all is my idea of total bliss.
The next scheduled festival is the Russian Resurrection Film Festival, kicking off on August 30 in Sydney, and a few days later in other capital cities. I've managed to see a number of films that will be playing at the festival, and wanted to give you a preview of what to expect.
To be honest, there are some problems. A big one that typically affects all festivals of this nature is that the best films are often nabbed early by the big film festivals – both the Melbourne and Sydney Film Festivals, for instance, scored Alexandr Sokurov's extraordinary Faust only weeks earlier – leaving fewer pickings for the smaller festivals. The good news? These are the times you catch the obscure gems you don't know to look forward to.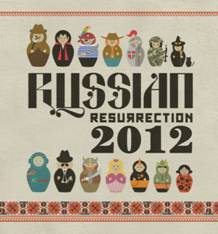 I'll be honest: of the four films I watched, two really did not work for me. The Admirer, a biopic of Chekov, is painfully-dull and laughably-scripted, and had me yelling 'Just die of tuberculosis already!' repeatedly at the screen. Similarly, Home seemingly attempts to evoke the remote pastoral visuals of Tarkovsky's 1986 work The Sacrifice, but lacks the depth to match its ancestor. There are several lovely moments and shots, but it's a melodrama that embraces every overwrought cliché it can find.
But that's okay, because seeing films that don't quite work is an essential part of the festival experience, and one I genuinely wouldn't give up. It makes the real discoveries all the sweeter, such as the exceptionally fun and engaging Spy, about a Russian boxer during World War Two enlisted by Soviet forces to capture a German spy. It's a blast of a film, and a superb choice for the festival's opening night.
Even better than Spy, however, is Siberia MonAmour, centring on people fighting for survival in a remote Siberian village. It sounds bleak, but it's a powerful and evocative film with a truly beautiful aesthetic.
I haven't seen the other films playing, but I'm hoping to get to historical epic The Horde, comedy/drama Two Days, animation Ivan Tsarevich and the Grey Wolf, comedy Five Brides, and action adventure August 8th. There are also some very tempting retrospectives, including 1967's War and Peace, 1912's 1812, 1947's Cinderella, and 1973's The Duel, which will be particularly interesting in light of the recent English-language version.
Go to the festival's website to find times and locations for the festival. And if you wish to contribute to the Send Lee To Film Festivals The Year Round, I'll have details for that fund up soon.