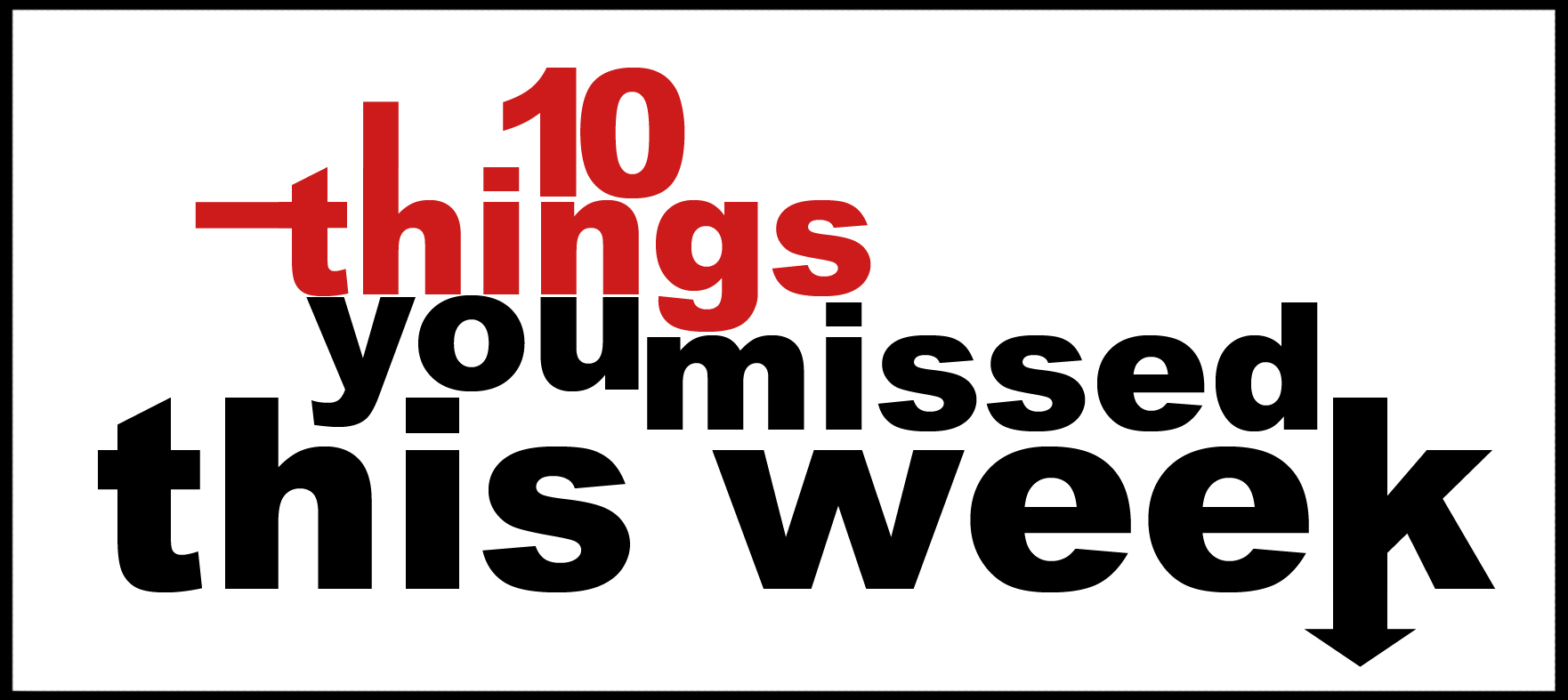 1. My obsession with 3D printing continues! Recently, I've talked about how 3D printers have now managed to create working guns, with all the terrifying implications that go along with that. Recent events in Austin, Texas may well make you feel better, or terrify you further. (via Catriona Wimberly)
RT @JoshMalina For his next stunt, David Blaine is going to watch two episodes of ANIMAL PRACTICE.
2. Marek Lawood doesn't want much: he just wants Siri to pronounce his name correctly. It doesn't go well. (via Marek Larwood)
RT @God_Damn_Batman The new iPhone map directions say I can get from a secret mideast prison to Gotham in under 4 hours. I don't understand what the problem is.
3. We're a pretty visually-focused species, and tend to believe that everything worth noting is available on the visible spectrum. But we'd be wrong. In fact, it seems that the majority of what's important to us simply cannot be seen. This brilliant video is a five minute animation of John Lloyd's 2009 TED talk, as he tells us about all the things that matter. (via Peter Serafinowicz)
RT @squickens I don't mind saying that I really admire Babar. He's an excellent role model and one of the main reasons I became an elephant myself.
4. This is the stuff of nightmares, but so brilliantly executed. I'm glad they show how they do it first, rather than just launching into the finished product, as I'm not sure my arachnophobia could handle the deception. (via Gary Russell)
RT @meganganz The mood I'm in right now is the exact opposite of a puppy's belly.
5. North by Northwest is one of Hitchcock's perfect films, and I've always loved the way it views New York. Now you can check out how the locations compare over fifty years later, with a shot-for-shot comparison of key scenes. (via Criterion)
RT @aliterative Skin is the most attractive thing on a woman. You say you're 'boobs' or 'legs' or 'ass' men. But you're all screamy if she's got no skin.
6. Are you a newlywed, or about to be? Then you really need to know what to expect. These comics from the '40s and '50s give all you young ladies a shocking, salacious idea of what to expect from marriage. It's safe to assume that these messages are as relevant today as they were when they were first published.
RT @wonderella If you play The Little Mermaid backwards, Ariel ditches her idiot boyfriend and gains the powers of Aquaman.
7. Think of it as the modern equivalent of the photo on a milk carton. 404 pages pop up on the internet whenever you've clicked on a bad link or entered an incorrect URL, and they appear often. So what if they contained useful information beyond the fact that you've gone to the wrong place? The NotFound project is attempting to get photos of missing children put on 404 pages across the web, in the hope that a wrong turn results in a crucial find. (via Shane Bakewell)
RT @badbanana Man, I wasted a lot of quality human interaction today on people who don't even have podcasts.
8. It's interesting to hear Ken Levine (who has worked on MASH, Cheers, Frasier, The Simpsons and more) talk about why Cheers, which is now thirty years old, could never sell today. And though I wouldn't dream of arguing with someone who clearly knows what they're talking about, I'm not sure I completely agree with him. It certainly wouldn't be made the same way if it was, but surely the Cheers we know and love could still be made, right? (via Karen Pickering)
RT @zachheltzel "…and you're gonna die some day, and you're gonna die some day, and WE'RE ALL GONNA DIE SOME DAY!" – mid-life crisis Oprah
9. Arguably the most famous address in the world is 221B Baker Street, the domain of Sherlock Holmes. Back when Arthur Conan Doyle wrote the stories, there was no such address. But time changes, and streets grow longer. So is there now a 221B, and if so, where is it? (via Paul McAuley)
RT @ieatanddrink I have an album on Facebook that has pics of everyone I've ever slept with. If you wanna check it out it's called "Grandma and a dead owl"
10. Eat a dick. That's what Mao Sugiyama, a 22-year-old asexual Japanese man suggested when he had his genitals removed. After all, what would you do with them if you choose to dispose of them? Throw them away? Have them stuffed and mounted? Go on Twitter and offer them to anyone willing to pay 100 000 yen for a fellating degustation? Yes, he went with the latter. And this is what happened. (via Sean Lynch)
RT @Puddinstrip if you showed Mitt Romney a spork he'd laugh uncontrollably for two straight months
Those in the US getting ready to vote in about a month will want to hear from Samuel L Jackson. Clearly inspired by his own now-famous expletive-filled reading of bedtime story Go The Fuck To Sleep, Jackson has starred in a rhyming, sweary ad in support of Barack Obama called Wake The Fuck Up. And it's likely the best political ad you'll ever see.