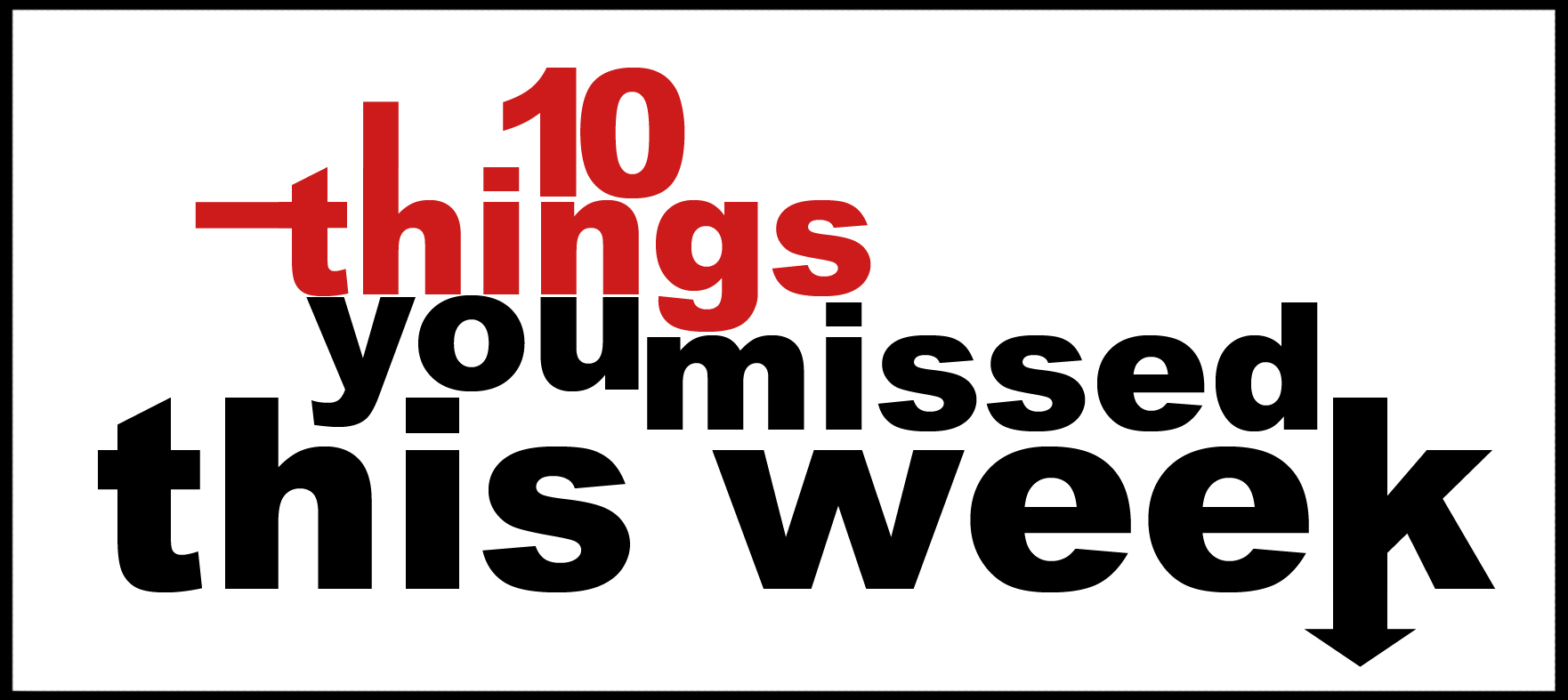 1. What you are about to hear is not a full piece orchestra; it's actually just one guy on a piano. See how he sets it up, then hear the incredible result. (via Julian Morrow)
RT @martynpedler Somewhere a bee dreams of one day having a beard made of men. The other bees taunt him with sarcastic dances.
2. I know this is a little absurd, but I adore the sheer audacity of this proclamation that I just have to post it: physicists may have evidence that our universe is, in fact, a computer simulation. (via Stephen Hahn)
RT @TeganMH I see no problem with a child eating the cupcake wrapper once the cupcake is done ‪#ReasonsWhyIShouldntBeAParent
3. Last week, a woman in Greece wanted to see a play that was deemed by protestors as 'blasphemous'. This is what happened to her, and how she reacted. (via Tom Garton)
RT @scottEweinberg "Killed 'em? I nearly rectum!" — Backwards Comedian
4. College professors in the US always seem to be scrambling for tenure. But you're unlikely to get it if you spend all of your time chasing mystical artefacts around the globe and having adventures. Tough luck, Dr Jones. (via Simon Hammond)
RT @GerryDuggan Congrats to that skydiver, but technically humanity's longest free fall is still ‪@TLC
5. Intelligence is a tough thing to define. Practically impossible, in fact. So if we don't know what intelligence is, how will we know when we've truly created artificial intelligence? (via Maddie Palmer)
RT @CossbySweater How many times do I have to tell a guy not to Frigg me in the Assgard before they learn? Norse means Norse. (Oh know I Odin't) …
6. A reporter from Gawker unmasked a man who may be the biggest troll on the web. The things he did were horrible, and the unmasking itself is amazing to behold. And once you've read it, check out this great follow-up on the ordeal. (via Roger Ebert and Jonathon Oake)
RT @bazecraze Lance was doping?? I swear I will never watch cycling before!
7. Whenever the movie Road House is on TV, Mitch Glazer, husband to Road House star Kelly Lynch, gets a phone call. It doesn't matter what time of the day or night, nor where in the world it's playing: the moment Kelly Lynch and Patrick Swayze begin having sex on the television, Glazer's phone rings. So why does it happen, and how does Bill Murray and his brothers Brian Doyle Murray (Wayne's World) and Joel Murray (God Bless America) factor into it? (via Tony Martin)
RT @Brocklesnitch I don't have time to say 'food truck' so i've just shortened it to 'fuck' like 'look at those idiots in that long line for a fuck!'
8. Timothy Kurek grew up in the Bible Belt of America, in a very conservative, homophobic family. But when his lesbian friend spoke of how her family had kicked our of the house, Kurek made the decision to spend a year pretending to be gay to see what it would do to both his viewpoint, his life, and his faith. (via Devin Faraci)
RT @RawWhore Sean Connery could never tell a girl to sit on his face without some serious confusion.
9. Babies have very high-pitched cries. If you don't want to ever sleep again, have a listen to what a baby's cry sounds like when it's pitched down to a more 'adult' tone. (via Badass Digest)
RT @pattonoswald Hey! Today's date is 10/11/12! (*quietly walks into traffic)
10. There's a lot of rhetoric and noise about the US election, with some serious (and typical) sledging on both sides. But if you're an American still trying to make up your mind, and you want some reason put back in the debate, this woman gives some pretty compelling arguments as to why you should vote for Mitt Romney. (via Stephen Hahn)
RT @meganamram That cop says I should go to jail for smoking PCP in my car, but I say that cop should go to jail for being a saber-toothed tiger
Finally, this is a new home page for all your stats lovers out there. Want to watch the population of the world, including births, deaths, expenditure, etc? In real time? Now you can.