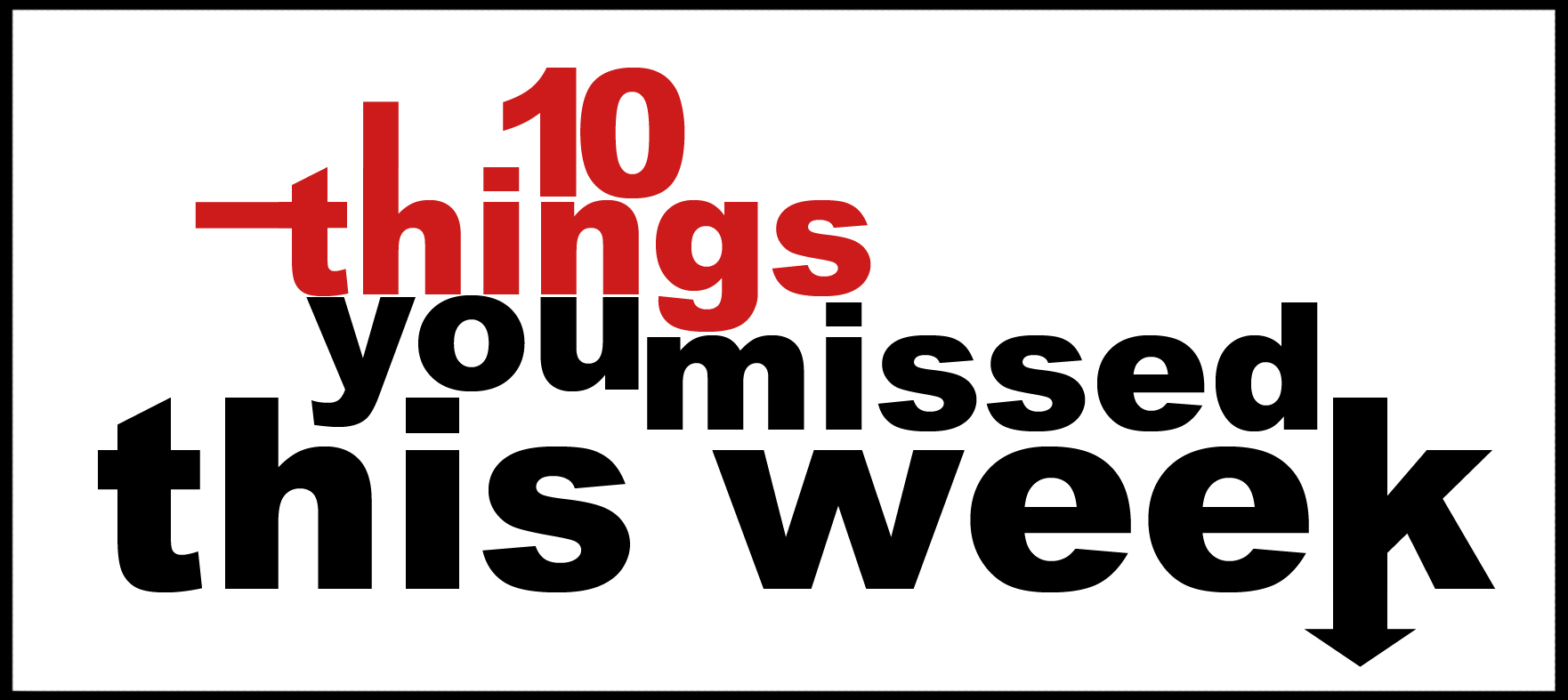 1. Possibly the best use of slow-motion photography I've ever seen: capturing a lightning strike at 7207 frames per second. I could watch this incessantly. (via Josh Kinal)
RT @JoshMalina The punchline is "Mayan urine." I can't think of the joke.
2. Quite aside from the ethics of it, I can't understand why people plagiarise in the age of the internet, where one can be so easily caught out. (Hell, with the sheer number of stolen tweet jokes, I'm worried I'm going to one day put a 'stolen' RT into this column.) Take a look at the psychology of the plagiarist. (via Brendan Swift)
RT @JeremiahMc I WISH EVERY DAY WAS INTERNATIONAL CAPS LOCK DAY.
3. Don't hurt your head trying to work out how many layers of irony we're into with this, a list of ten Halloween costumes for twenty-somethings. Just enjoy. (via Zoe Norton Lodge)
RT @phlaimeaux Watching the Grand Designs where Kevin arrives in to find that Time Team have excavated the house and he fights Baldrick with a gutter
4. My favourite thing to do on this site is alt-universe cinema, but rarely do we have a tangible video link into the parallel dimensions in which these imagined films must surely take place. Like, say, Don Adams and Don Rickles in Midnight Cowboy. With only one real clue that this is a spoof video, I prefer to see it as a bizarre insight into what might have been. (via Jeff Goldsmith)
RT @ThatLynchyGuy If you ever don't know the answer to a question, tell someone they have 3 chances to guess correctly. Then steal their money
5. When Maurice Sendak was gnashing his terrible teeth during the creation of Where the Wild Things Are, it's very likely that he caught a glimpse of In the Land of the Head Hunters, a 1914 silent film featuring the Kwakiutl people of British Columbia. But the story of Edward Curtis's North American Indian project is even more interesting than that. (via On The Media)
RT @MelissaStetten The only human interaction I had today was when I shrugged at a stranger cuz we both let the elevator door close on a woman.
6. This Reverend stood in front of a city council to use the Bible as an argument against gay marriage. So why do I think this guy is a genius? You'll have to watch the video to the end to find out. (via RDFRS)
RT @secunda "Booooo!" -Ghost kids after being told they can't eat ice cream anymore.
7. Eight-year-old Stella Ehrhart may be my new favourite person. She dresses as a different important 20th century woman each day and wears the costumes to school. Not only is the idea great, and her interpretation of these costumes brilliant, but the way some of her classmates have reacted is even more inspiring. (via Mel Campbell)
RT @brentahill That Icecream scoop really brings out your eyes.
8. Two things I'm fascinated by without being particularly knowledgeable of: video games and Japanese culture. This list of eleven bizarre Japanese video game titles just confirms that I am missing out big time. (via Andrew Hansen)
RT @wojennifer If you stopped going out with someone called Istential Crisis, you could introduce him by saying, "This is my former partner, Istential."
9. Ann Coulter's lack of relevancy means it's barely worth repeating the 'controversial' nonsense she broadcasts… unless, of course, it leads to something amazing. After Coulter referred to President Barack Obama as a 'retard', John Franklin Stephens, a Special Olympics athlete and eloquent writer, took time to write a response to her explaining why comparing Obama to someone like him is far from an insult. (via Greg Jericho)
RT @sarcasticapple Marx and Engels sitting in a tree, t-a-k-i-n-g c-o-n-t-r-o-l o-f t-h-e t-i-m-b-e-r i-n-d-u-s-t-r-y's m-e-a-n-s o-f p-r-o-d-u-c-t-i-o-n.
10. Next Media Animation has a special way of interpreting important events, but its take on the third 2012 Presidential debate may be my favourite yet. I'm going to keep watching it until I've convinced myself that this is, frame for frame, what happened. (via Tim Ferguson)
RT @meganamram Asked my therapist for "The Rachel"
Finally, if you're in Sydney tonight, rock along to the Australian Film Television and Radio School at 5pm to hear me in conversation with Alice Tynan, Giles Hardie, Dan Ilic and Marty Murphy as we talk about the best film and TV of 2012. And you thought Christmas was getting earlier each year.