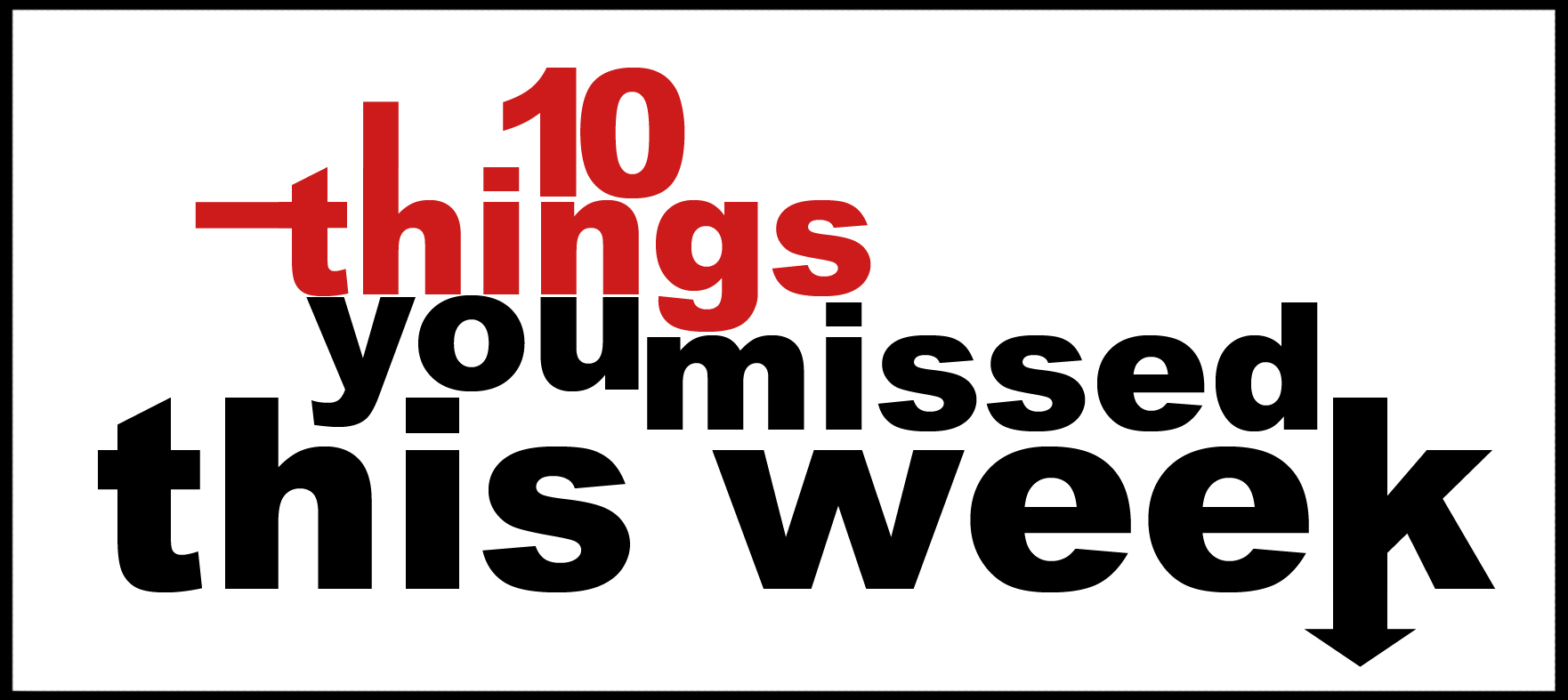 1. Even if you're not a fan of the brilliant US sitcom Community, you have to be concerned about the willingness of NBC to basically fire its creator and head writer Dan Harmon. This is what's happened ahead of Community's fourth season return (and given its 13 episode order and bump to Friday night, it's safe to call this the final season). Dan Harmon didn't find out before the rest of us, by the way. A press release was issued whilst he was on a plane, and he landed in LA to a barrage of text messages and tweets. This is his response. (And if you get a moment, this memo NBC sent Community cast members about how they should respond to questions about the controversy in interviews doesn't make NBC look much better.)
RT @mrbeaks Dan Harmon got bounced from COMMUNITY? Great news for fans of AIRPLANE 2!
2. Hugh Jackman is keen to be a teacher. This is his attempt. (via Australian Screen)
RT @maskedscheduler A board game, a pregnancy manual and a thirty year old soap opera….welcome to the wonderful world of motion pictures.
3. Are you a little confused about the chronology of the Marvel Studios films? When did they find the Tesseract from Captain America in that scene in Thor? At what point in the Iron Man chronology does Tony Stark meet with The Incredible Hulk's General Ross? Marvel's got you covered. (via Jon Favreau)
RT @ovandenberg 6 MONTHS AGO: (to mirror) "You did it buddy, you're the star of two big summer movies. Things are finally lookin' up for ol' Taylor Kitsch."
4. Star Wars fans can't do anything without Star Trek fans responding in kind. Only a few weeks after this column pointed you to a study showing a Death Star would cost US$852 quadrillion, we now have a more practical and affordable option: build the USS Enterprise. At US$1 trillion, it's a steal at twice the price. Here's how we do it. (via Marc Fennell)
RT @Jamwa Liam Neeson's cock is so big the opening credits of Dr Who were filmed inside his urethra.
5. With Mark Zuckerberg currently enjoying All The Wealth, and Facebook being floated on the stock exchange this past week, it's hard to talk about the social networking site without bringing it back to money. And now you can find out how much you are personally worth to Facebook. (I clocked in at $71. Before Facebook's stock went public, this figure was $3. Which is why I've been going around saying 'Three dollars isn't cool. You know what's cool? Seventy-one dollars.') (via Chas Licciardello)
RT @paulbyrom Why is Facebook going public?Could they not figure out the privacy settings either?
 6. I like high concept ideas. The idea behind HBO's Girls is 'What if we made a version of Sex and the City that Lee actually liked?'. Girls, created, written by, mostly directed by, and starring Lena Dunham is honest, funny, dramatic and engaging in a way that I wasn't expecting. This brilliant article in the New York Review of Books gives you a good idea why.
RT @AdrianMartin25 I found page of my notes from 1982: titled GIRLS, it reads: "faces – songs – plots – fashions – youth culture". So see, I invented that show
7. There's an art to everything, even opening a book. This diagram instructs you on how do it properly. I can only assume the same principle applies to Kindles and their ilk. (via Martyn Pedler)
RT @sexenheimer Weird how the Zodiac murders really tapered off after Neil Diamond got a soundproof home recording studio/kill room. Hashtag Just Saying.
8. These days it's rare that we see the best example of a political leader: one who takes an unpopular moral stance on an issue, doing so simply because it's the right thing to do. This is what happened when Barack Obama came out in support of gay marriage. What's even more remarkable is that the expected backlash never really came. Republicans knew that fighting him on it would galvanise Obama's base, but the public? Well, they seem to have had their minds changed. In six years, the number of American citizens supporting gay marriage went from 36% to 51%. Obama's announcement may not have had any immediate legislative effect, but it's undoubtedly a big step. (via Max Denton)
RT @beatrixcoles The FRIENDS theme would make more sense if it was "hasn't been your year, your week, or even your day". Days are the easiest to achieve.
9. Before Braille took off, the blind were catered for in very literal but fascinating ways. Have a look at this atlas designed for the sight-impared back in 1837. (via On The Media)
RT @scottEweinberg Why can't we have a black Ian Fleming, anyway?
10. Remember that Apocalypse that was supposed to happen last year? May 21, 2011 was the date the world was going to end, and its proponents were adamant that it was a definite. One year on, how do they feel? (via Leigh Paatsch)
RT @dissolvedpet What I have learned from Twitter on #Cannes: folk have many diverse views & opinions, none of which tell me anything
If any of you Melburnians are in the city tomorrow (Saturday 25 May), feel free to swing by the Emerging Writers Festival (Look! I'm pulling a silly expression on the front page of the website!) to hear me speak unintelligibly about writing graphic novels. I'll be talking with Mirranda Burton at 12:30pm at the Melbourne Town Hall, so come on by and heckle. Now, if you'll excuse me, I'm off to listen to an 8-bit recording of Radiohead's OK Computer.