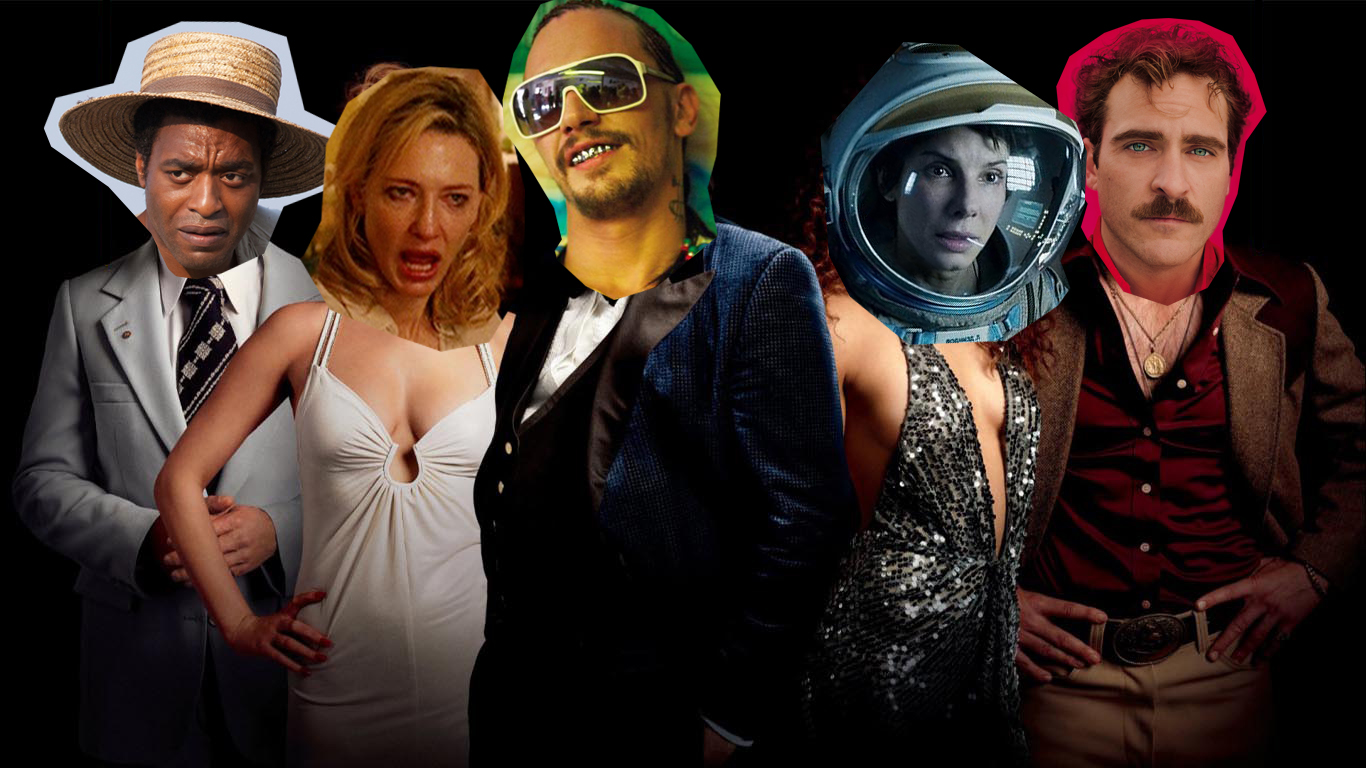 It's a widely-known fact that the only way to properly appreciate art is via either awards ceremonies or numerical rankings. And now that it's the end of December and everyone's sick of these lists, it's the perfect time for me to publish my own.
For those new to my tradition, below you'll find not just a Top Fifty Films of 2013, but also a separate Top Ten Documentaries. My reasons for separating them are both long and academic, and I won't bother you with them now.
But my reason for doing a top fifty is this: if I'm not seeing fifty films that I love each year, given how many films I see, I'd stop with this film malarkey and do something useful. This list is about unearthing the gems, whether large-scale or obscure, and creating a list that isn't strictly about ranking, but shining a light on some films that may not be getting the attention they deserve. Films that are clear #11s in a world of Top Tens. More than a few people have told me that they use my list as a guide of which films to catch up on, and so I continue the tradition. I never struggle to reach fifty; I keep a running tally of my absolute favourites over the year, and each December discover that my list of films I loved exceeds fifty. Every time.
Also: don't try to figure out my approach to release dates. If anyone's really interested I can provide an explanation below, but basically my list includes 2012 films released in Australia in 2013 through to 2013 films that won't come out here until 2014. Some films that reached Australia this year, such as Django Unchained and Cloud Atlas were on last year's list, whereas I have not yet had a chance to see the likes of All Is Lost, Blue Is The Warmest Colour, In a World… or Cheap Thrills. Frustratingly, and despite my best efforts, I also missed some key Australian films such as The Turning, The Rocket and Lygon Street: Si Parla Italiano.
I never see as much as I want to, but I did get to see an awful lot, so go make yourself something warm and settle in for my best films of 2013.
(And hey, if you enjoy this list, why not listen to me talk cinema every month? Subscribe to my film podcast Hell Is For Hyphenates on iTunes, Stitcher or via our website!)
The Ten Best Documentaries of 2013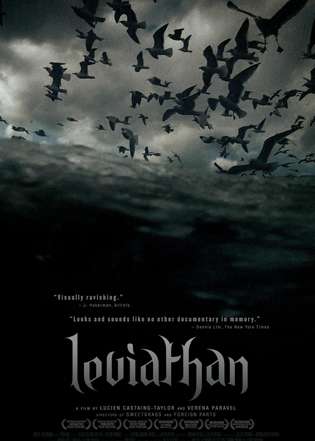 10. LEVIATHAN
There's an ethereal beauty to this documentary, which quite literally documents life on board a fishing trawler. There are no voice overs, no talking heads, no context, and for long stretches at a time, the camera is simply affixed to a part of the boat where action may or may not be happening. It's a visceral experience that conveys as much about life on these boats as a more straightforward narrative could. It's testing, but hypnotic and rewarding.
9. THE CENTRAL PARK FIVE
This isn't the only film about wrongful, prejudicial imprisonment on this list. This shocking story of just how badly justice can be miscarried should be viewed by anyone who assumes they know the whole story about anything. The story of how five youths were arrested and pilloried in 1989 New York for the rape and beating of a woman they had nothing to do with is terrifying. The lingering shots on the faces of the men as they ponder the lost decades of their lives are images you won't soon shake.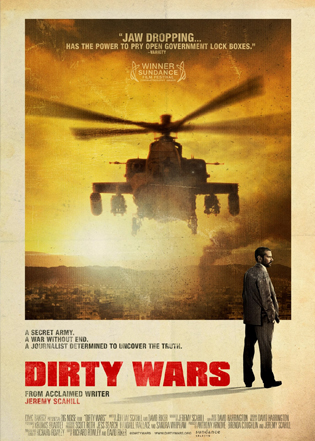 8. DIRTY WARS
There's a fine line between self-mythologising and providing context with fancy production values. Sure, Jeremy Scahill is front and centre in this documentary about America's secret wars, but the story wouldn't work without an "in". We're being asked to sympathise with people who have been branded "terrorists", and having Scahill act as our conduit for this makes it significantly more palatable. Scahill has always come across as ultra-serious in interviews, and this film helps us understand why. We may think we know the full story, but as Scahill picks away at all the cover stories, it becomes apparent that there's so much more going on under the surface.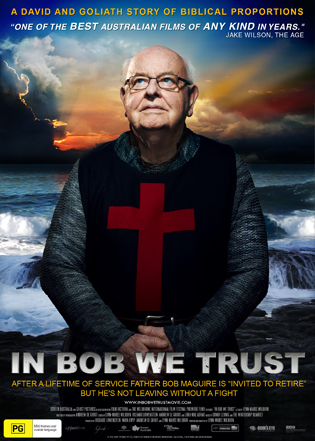 7. IN BOB WE TRUST
I'm not sure why I approached this documentary with trepidation, but I suspected that it would, at best, simply coast on the wonderfully acerbic personality of Melbourne Catholic Priest Father Bob Maguire – every Australian non-Catholic's favourite Catholic – and offer little insight beyond that. How wrong I was. Filmed over the period in which the Catholic Church was trying to forcibly retire him, this documentary gives us a real insight into who Bob is and how he came to be. Intercut with an inspired Seventh Seal mock-up featuring Bob playing chess with a Deathed-up John Safran, this is a brilliantly-realised tribute to one of our most significant cultural figures. As Bob nearly explodes at the idea of having to justify to his superiors why he keeps spending money on the less fortunate, we are treated to a unique view of a man who clearly has a better understanding of Christ's actual message than many of his superiors.
6. GORE VIDAL: THE UNITED STATES OF AMNESIA
You could easily make a dozen different films about Gore Vidal and not be in danger of covering the same ground. Whilst this film does explore where he came from, its biggest success comes in simply presenting us with his most legendary quips, which mercilessly destroy anyone in their path. It's laugh-out-loud stuff, and covers Vidal's earliest days through to his last moments.
5. BLACKFISH
It's one thing to be told that a place like Seaworld is inhumane, but it's hard to truly comprehend it until the argument is prosecuted in front of you. Those of us who (naively) always assume the best of human nature may assume that nobody would run a marine theme park without making animal care their top priority. This is clearly not the case. Blackfish is an incredibly shocking film, necessarily less confrontational than The Cove, but no less important.
4. THE MISSING PICTURE *
Rithy Panh's film about growing up under the control of the Khmer Rouge is astonishing for many reasons. His life story itself is deeply affecting, and Panh tells it by recreating his world with model people, model buildings, model landscapes. That such a story would be told in this way would be remarkable in itself, but what really elevates this film is the way that Panh so desperately wants to find the photographs from the period that have gone missing. He decries the fact that people believe they understand everything about a person from seeing their image, but is simultaneously and understandably upset that he cannot find pictures of his family. This isn't just a film about an atrocity: it's a film about how we remember our past.
3. WEST OF MEMPHIS
In 1993, the bodies of three missing 8-year-old boys were found in a Memphis waterway, and a few months later, three teenagers were tried and convicted of the crime. Few contested their innocence until documentary filmmakers Joe Berlinger and Bruce Sinofsky made the Paradise Lost trilogy, demonstrating not only their obvious innocence, but the scope of the prosecution's failure. With their innocence proved but the real killer still at large, West of Memphis provides an incredible overview of the mystery, and, like all the best documentaries, should be compulsory viewing.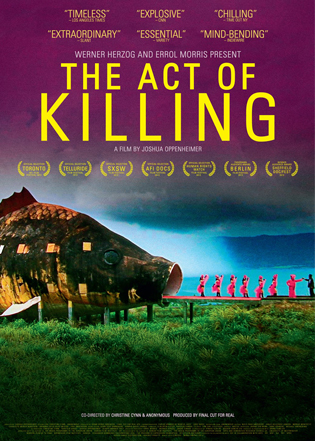 2. THE ACT OF KILLING
It's difficult to imagine that years after an oppressive, violent horror, the perpetrators could possibly still be in power. The Act of Killing is, for those of us in the west, a microcosmic "What if the Nazis had won World War Two?", with director Joshua Oppenheimer (no relation to the famous scientist, despite my WWII analogy) following a group of ex-death squad members in Indonesia, reminiscing about their acts they committed. But Oppenheimer takes it to the next level, helping the men re-enact their atrocities for the cameras. The resulting film is a therapy session writ large, an extraordinary insight into the minds of psychopathic killers as they slowly come to terms with what they actually did. That this film even exists still leaves me speechless.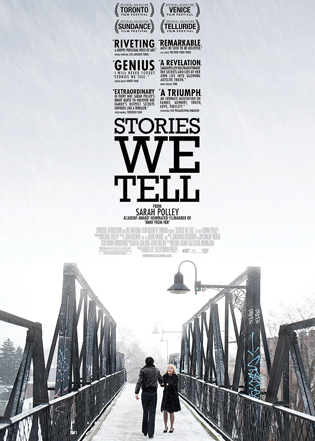 1. STORIES WE TELL
With her sad eyes and engaging performances, I miss Sarah Polley on screen. However, if she's going to keep making films as incredible as Away From Her, Take This Waltz and Stories We Tell, I'm more than happy for her to stay behind the camera. Her first three films are astoundingly good, and the effortlessness with which she creates such cogent and brilliant works suggest her talent must at least partly genetic. Which is appropriate given Stories We Tell is about her own family. Far from being a self-indulgent nostalgia trip, the film is a truly captivating tale told superbly. It folds back no itself, not just telling a story, but also examining the manner in which its participants recall their own versions. We receive not just a revelation of Polley's unbelievable family history, but a treatise on the very nature of storytelling itself. And how many films can manage that?
The Fifty Best Films of 2013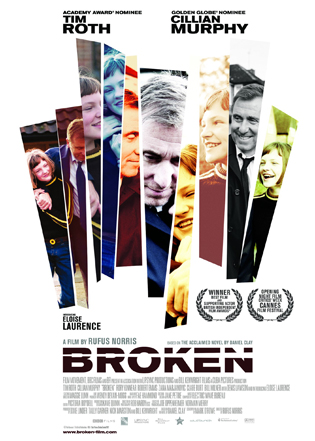 50. BROKEN
This incredible film about a tumultuous neighbourhood in North London as seen through the eyes of a young girl is tense, funny and impossible to look away from. Tim Roth, Cillian Murphy, Denis Lawson and newcomer Eloise Laurence are all superb, and one of my favourite working actors, Rory Kinnear, gives a kinetically-intense performances, playing an edgy suburban father without ever succumbing to any of the usual "edgy acting" tropes. It's the first film from theatre director Rufus Norris, and hopefully won't be the last.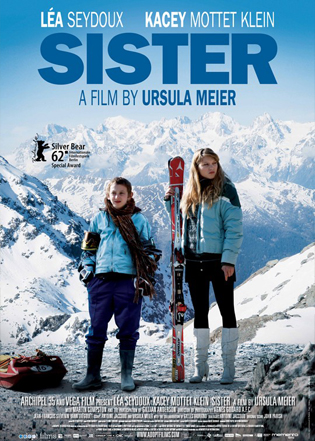 49. SISTER
Ursula Meier's criminally-overlooked 2008 film Home depicted the life of a family living in a house beside an unfinished highway. It was a slightly surreal setting, and the problems for the family begin when the highway is completed and the traffic begins pouring past their front door. Meier's Sister follows a similar path, juxtaposing the bizarre trivialities of family life with the faceless march of commerce, and how our protagonists are always slightly removed from it. Here, society is represented by a high-end ski resort, as twelve-year-old Simon steals skis and sells them off to pay for food and basic living necessities for him and his older sister. The way in which Meier peels back Simon's defences is masterful, and the stunningly beautiful backdrop makes this film all the better.
48. GINGER AND ROSA
For those wondering, Sally Potter's still got it. Her beautiful film about two girls growing up under the threat of nuclear war just as they're becoming adults is perfectly handled, with Elle Fanning's central performance one of the best of the year. Her growing fear of the world ending is the perfect metaphor for the massive changes in her life, and Potter draws these parallels brilliantly. And hey, any film that features Timothy Spall and Oliver Platt as a couple deserves extra kudos.
47. OMAR
So many works are casually referred to as "Shakespearean" if they happen to deal with grand themes of power, love and betrayal, but so often the tragedy of Shakespeare's plays is actually the tragedy of misinformation: the way in which a key piece of news, whether correct or incorrect, is delivered at the most inopportune moment, and the dire consequences that result. Omar, a striking film about a Palestinian man trying to resist Israeli forces, is, in this sense, Shakespearean, and succeeds by focusing on the personal. There are no good guys, there are no bad guys: just people with their own desires and beliefs.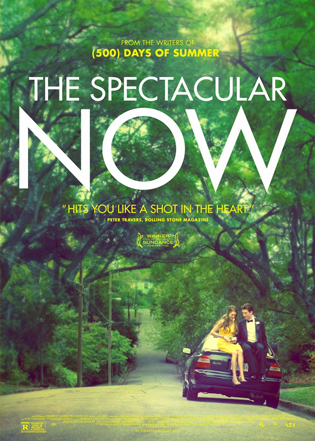 46. THE SPECTACULAR NOW
The Spectacular Now's coming-of-age remit suggests a fairly unavoidable formula of love, loss, learning and moving on. What's astonishing is how well this film avoids cliché, managing to navigate an unexpected route without slipping into either sentimentality or bleakness. There's not a false note in the entire film, from the spot-on casting – teens look like teens! – and the unvarnished manner with which the film deals with drinking and sex. I didn't think a Young Adult film could win me over as much as this one did, but its sincerity and execution was a real triumph.
45. ALAN PARTRIDGE: ALPHA PAPA
This is by far the most that I laughed in any comedy this year, and given how many comedies I saw, this is no small feat. Steve Coogan's Alan Partridge is one of the most bizarrely watchable comic creations of recent times, and throwing him into the midst of a hostage situation he is partly responsible for is the ideal setting for this low-key but consistently hilarious film.
44. PATRICK
Australian films so often forget to have fun. Sure, many of my favourite local films from the past few years have been solemn, weighty dramas, but until I sat down to watch Mark Hartley's Ozploitation remake, I hadn't realised how much I craved some unabashed, glorious schlock. A textbook case of what to keep and what to change when reinventing a classic, Hartley's Patrick relocates the action from an inner-city hospital to a remote mansion teetering over a rocky cliff. As nurse Kathy (Sharni Vinson) connects with possibly-psychic coma patient Patrick (Jackson Gallagher), Hartley creates the perfect mix of tension and horrific scares.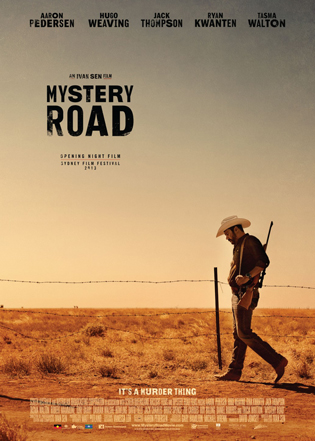 43. MYSTERY ROAD
"Film noir" doesn't refer to the on-screen aesthetics of the beloved sub-genre: the "noir" is more to do with the subject matter, the exploration of the darker side of humanity as we succumb to our base instincts and defy the laws of man and gods. The proof is in the inspired way that Ivan Sen creates a film noir that is bathed almost entirely in daylight. The only night scenes are tangential and character-based, far away from the crimes that form the backbone of the plot. Subtext has always been Sen's strong point, right back to his superb debut feature Beneath Clouds. The film opens at dawn and closes at dusk: the perfect coda for secrets suffused in sunlight.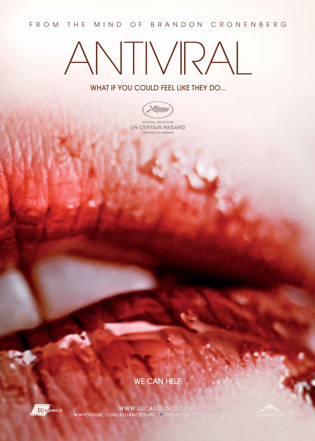 42. ANTIVIRAL
David Cronenberg's son Brandon is undoubtedly a chip off the old block given his fascination of body horror and static terror, yet still brings his own style to this glacially-paced film about the extremes of celebrity culture. It may seem like the focus of the satire is on drugs and self-medication and big pharma, but these are simply tropes used to examine the scarily-obsessive nature of celebrity worship. Caleb Landry Jones is incredible in the lead, impossible to look away from even when he's doing very little. Hopefully this is the beginning of a long career for Cronenberg 2.0.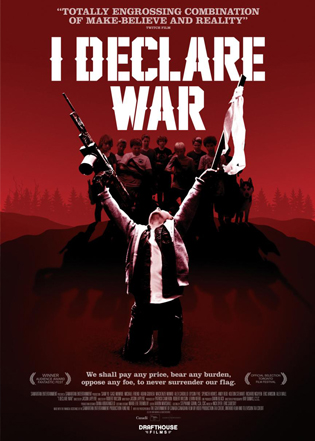 41. I DECLARE WAR
I've never been able to enjoy Lord of the Flies as a book or either of its films. It's a shade too intense for me, despite the fact that I love the idea: kids left to their own devices trying to apply societal rules to an authority-free environment. I Declare War may not reach William Golding levels of allegory, but the combination of its cultural subtext and the way in which it depicts it – kids playing at war imagine sticks and branches as guns, and we see it through their eyes, so you've basically got a bunch of ten-year-olds running around with automatic weapons and bazookas – is inspired. One of the most imaginative and thrilling films this year.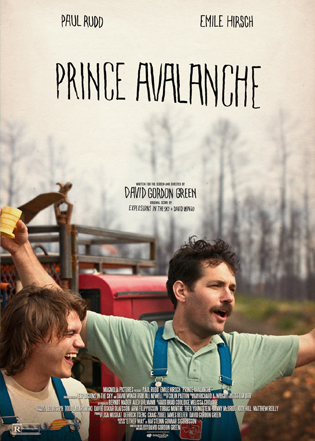 40. PRINCE AVALANCHE
Given my reaction to David Gordon Green's Pineapple Express, I didn't anticipate I'd enjoy Prince Avalanche at all. His film about two men (Paul Rudd and Emile Hirsch), charged with re-drawing traffic lines on reconstructed Texas roads following the bushfires of the 1980s, is completely wonderful. It's a story about two markedly different personalities in conflict with one another, and how the power shifts back and forth between them. The dramatic and comedic elements work perfectly in concert, and the performances by Rudd and Hirsch are excellent, as is the score by Explosions in the Sky and David Wingo. The way in which Green captures the burned-out Texan wilderness against the mundanity of the asphalt road echoes the conflict between Rudd's nature-loving isolationist, and Hirsch's urban slacker.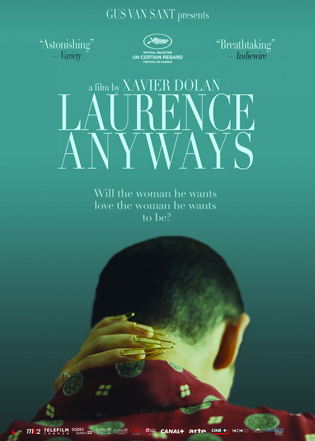 39. LAURENCE ANYWAYS
This was my first Xavier Dolan film: a three hour epic examining a ten year period in the life of Laurence, as he makes the transition from male to female. I can't deny that this film struck a particularly personal chord with me, given someone close to me has recently revealed that they will be making a similar journey, but the emotional conflicts in this brilliant drama should ring true regardless of your personal experience. The film is made with such aplomb, and like so many other films on this list, strikes a strong realistic tone before indulging in metaphorical, fantastical moments that reflect the characters' journey. These sorts of long-form chronicles are usually made about Mafioso crime figures, and Dolan's tale is no less epic by focusing on an intensely personal journey.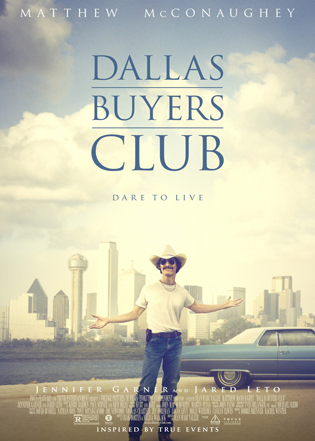 38. DALLAS BUYERS CLUB
Matthew McConaughey and Jared Leto are both astounding in this true story about a man with AIDS in the early 1980s. There are no elegant flourishes, no inspirational music, no big speeches. It's a straightforward story, but what makes it work so well is that every single moment is rooted in character. There's no decision taken for the convenience of plot: everything is informed purely by the arc of the characters. An excellent script from Craig Borten and Melissa Wallack, and typically superb direction by Jean-Marc Vallée.
37. WHAT MAISIE KNEW
I'm stunned that this beautiful film about divorce, told from the point of view of the couple's six-year-old, did not get more attention. The complexities of the adult relationships are glimpsed at through the snippets that Maisie is witness to, and we build up a fairly complete picture of who these people are. We are obviously better equipped than Maisie to understand what's going on, but we are never given more information than she herself is privy to. Like the rest of the film, the conclusion is executed with utter magnificence.
36. MUD
Everyone's compared this film to the works of Mark Twain, and I can't avoid doing so either, as it would ignore the film's central charm. This is fundamentally a film about a young boy's relationship with love, and the way in which it seems to fail everybody else in his life. Everything in this film works, particularly the resolution, which creates an unexpected yet perfect end to our protagonist's story.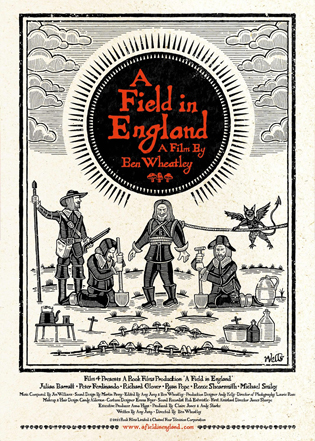 35. A FIELD IN ENGLAND
I've been enamoured by Ben Wheatley's films since his debut Down Terrace in 2010. Then came the superb Kill List in 2011, the brilliant Sightseers in 2012. His latest, A Field In England, feels like Jim Jarmusch's Dead Man if it was an hallucinogenic film set in 17th century England. There's something enigmatically distancing about the script by Amy Jump, and Wheatley's style displaces you in a way so few filmmakers can manage successfully. If there was ever a film designed to be watched at midnight or later when your senses begin to wane, it is this one.
34. COMPUTER CHESS
Given the breadth of both computer and chess analogies available, I'm actually going to go with a musical one: when Computer Chess begins, it feels like a total one note film. Which isn't necessarily a bad thing, but one note played over and over again must be done with a certain flair if it's to hold our interest. But as the film progresses, it adds more notes, more instruments, never deviating from its original theme, just expanding upon it. Computer Chess initially feels like a quirky piece of artifice, until its ideas become apparent: human vs computer, mental vs spiritual, brain vs soul. In a film about people competing in chess tournaments, writer/director Andrew Bujalski pits all possible ideas against one another, until the game of chess itself becomes a battle between every possible human experience.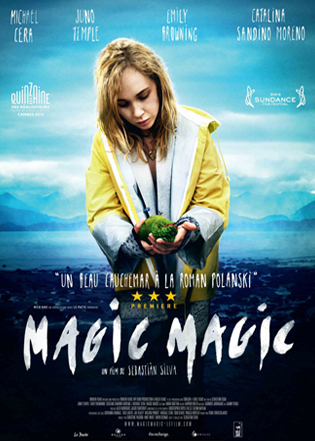 33. MAGIC MAGIC
Sebastián Silva's Magic Magic is a far cry from the style of his fantastic 2009 Chilean comedy/drama The Maid, but it retains one central idea: how subjective our character flaws are, and how hard it can be to translate them. We're all just animals, easily discarded, and our fear comes from humans treating one another the way they treat animals. Juno Temple, Michael Cera and Emily Browning are all amazing, and Silva's creepy, off-putting aesthetic makes us feel as if we're experiencing the mental illness that central character Alicia herself suffers from. Not an easy trick to pull off, but a damn impressive one.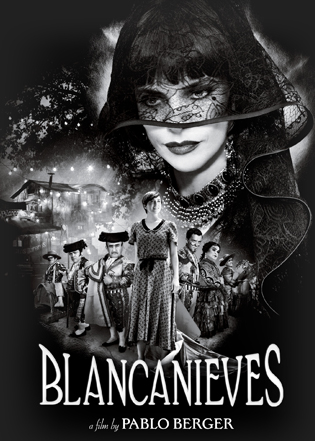 32. BLANCANIEVES
Pablo Berger's Snow White adaptation moves the action to 1920s Seville, turns Snow White into a bullfighter, and does the whole thing in the style of a silent film. Like Guy Maddin, Berger uses the silent film aesthetic brilliantly, as if this is a story that could not have been told in any other way. Stunning to look at, and with a unique, addictive personality.
31. THE WORLD'S END
I'm a devoted fan of Shaun of the Dead and Hot Fuzz, but The World's End may be my favourite entry in the Cornetto trilogy. Re-viewings of the film may shift their position, but the fact that all three are up for the title of favourite delights me in itself. I've been so exhausted by the mass-destruction that seems to inhabit every single blockbuster, so hats off to Edgar Wright for creating an end-of-world look that is completely distinctive. Simon Pegg's Gary King is his funniest role yet, and all the character journeys are so brilliantly drawn.
30. STRANGER BY THE LAKE
In the most captivating murder mystery of recent memory, a man is found dead in a lake whose shores are a notorious hook-up spot for gay men. We follow Franck, who begins seeing Michel despite the overwhelming evidence that Michel is the killer. The sensationalism of both the murder and the location itself is offset by the stillness of the film's pace. These primal instincts of lust, violence and murder juxtaposed against the stillness of the location is the real source of tension in this film. There's an increasingly-used trope of indie films which suggests that the real film is taking place somewhere else, and we're left with the supporting characters who only occasionally catch a glimpse of the real action. But I'm happy to stick with Franck, who swims in the lake despite the threat of the dangerous aquatic life, who is happy to flirt with danger right up to the film's quietly stunning conclusion.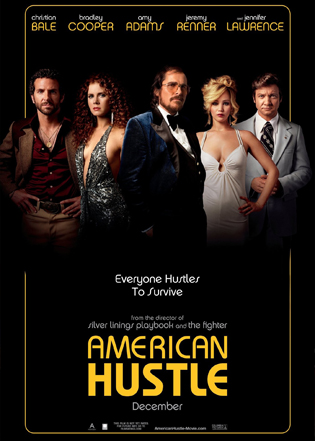 29. AMERICAN HUSTLE
I recently read Bambi vs Godzilla, in which David Mamet decries filmmakers who will swing a camera from fingers dancing on a piano keyboard up to the actor's face to prove to us that it really is the star playing the piano! I was reminded of that sentiment when David O Russell opens American Hustle with a tilt up from Christian Bale's enlarged stomach to his face, proving to us that he had indeed put on the weight. But then Russell does the same to all of the actors. Think of the famous shot of Jennifer Lawrence in that dress that saturated the film's trailers. It keeps happening, and so does the repeated meaningless phrase of "from the feet up" when the characters describe the approach to their operations. Through every shot construction and music choice, Russell tells us that these characters are not nearly as smart as they think they are, with their meaningless phrases and terribly-planned heists. These are not the best of the best, and Russell reminds us of this at every moment. It's not quite Donald Kaufman's third act of Adaptation, but it's not far off.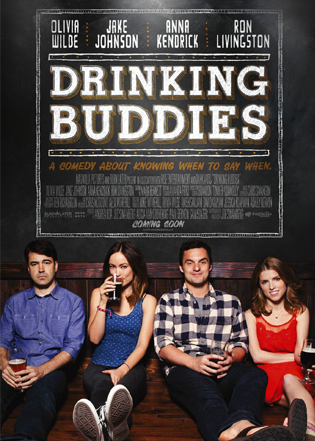 28. DRINKING BUDDIES
Joe Swanberg's Drinking Buddies may feature all the hallmarks of a mumblecore film (improvised dialogue, an indie aesthetic), but the setup of the central conflict – two couples in which every member is clearly better-suited to their opposite number in the other couple – suggests an inevitability to the way the story will play out. And that's not necessarily a bad thing, but the film is so much smarter than that, careening off into a far more honest and complex place. What does it actually mean to be betrayed? The way the film weaves itself around that concept is masterful, lifting it from an impressive character piece to a superb exploration of a grand theme.
27. THE PAST
Is this thematic trilogy intentional? Asghar Farhardi's superb 2009 film About Elly explored the difficult beginnings of relationships; his 2011 film A Separation explored their disintegration. In The Past he looks at the aftermath, and how difficult it is to move on years after the fact. The previous two films were told against the backdrop of Iranian culture, but The Past is set in France. Two of the main characters are Middle Eastern, however, and the way in which modern French culture jars with the cloistered tradition they are used to emphasises the idea that everything we deem important is in the past. And for a film called The Past, you'd expect a certain amount of thematic representation of that concept, but it's the masterful way that Farhadi weaves it that impresses. Take Samir's wife, who lies in a coma, artificially kept alive, in the strongest reflection of the film's central theme. If this trilogy is indeed deliberate, it is one of the greatest we've ever seen.
26. NEBRASKA
Nebraska's release date in Australia got pushed to February, so I'm under embargo for now. But as a big fan of Alexander Payne's works, I think I'm safe in saying that this is one of his best.
25. ENOUGH SAID
Nicole Holofcener is one of the most interesting filmmakers working today. Like her previous films, Friends With Money and Please Give, Enough Said ignores the glib in favour of the real. Sure, it's a relationship drama-comedy with Julia Louise-Dreyfuss and James Gandolfini giving career-best performances, but what takes it from good to great is the manner that Holofcener examines the familiar vs the new. This is her central thesis, and she doesn't waste time on a b plot or supporting character to make up the time. No, every single element of the film is completely on point, as she explores every facet of how we can be enamoured by the new and weary of the old, and how poisonous our own fickleness can be. Incredibly funny, genuinely tear-jerky, and truly brilliant.
24. CAPTAIN PHILLIPS
I remember watching these events unfurl on the news, as the networks created an unavoidable good vs evil narrative out of the Somali pirate hostage situation. Although some of the facts may have changed, seeing it from the other angle, even in a fictionalised big-budgt movie, feels like it has a stronger ring of truth than the news itself. Screenwriter Billy Ray and director Paul Greengrass ramp the tension up relentlessly, but this is more than just an exercise in adrenaline: there is a message here about the options available in the first world vs those available in the third world, and the juxtaposition of these ideas is far more interesting than whatever actual conversations may or may not have taken place. It's important that the pirates of the film – depicted as villains in the news but not in this film – should be sympathetic figures. This is truly brilliant filmmaking.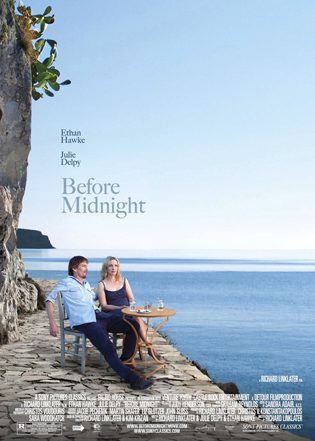 23. BEFORE MIDNIGHT
Just as Before Sunrise and Before Sunset's Jesse and Celeste change throughout the years, so too does the format of this series of films. Richard Linklater, Ethan Hawke and Julie Delpy get absolutely everything right here, and you can almost see the process of them figuring out what to change and what to leave. The format is reinvented each time out, but the one element that stays the same is the honesty of the leads' relationship. Neither of them are ciphers, but flawed humans who often say the wrong thing as they feed off their emotions. How rare that such a basic human trait should be seen in cinema! But that may be why these films remain so popular. As they try to hang on to the idea that they're fundamentally the same people who met eighteen years ago, they mock the fairytale stories their daughters watch, upset that their spouse does not conform to their fairytale ideal. As with the other films, this one ends on a question, and it's a Schrödinger's Cat of a cliffhanger: if the series ends here, it must be one ending. If it continues once again in nine years, then it can only be the other. And as both ideas strike me as perfect, I'm not sure which I prefer.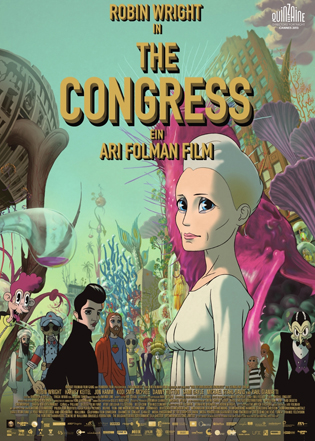 22. THE CONGRESS
Ari Folman's Waltz With Bashir is one of the greatest films of the past decade. In that film, he told the story of his own lost memory during the Israeli-Lebanon war, using animation to capture the truth rather than facts. His follow-up, The Congress, is an adaptation of a Stanislaw Lem novel, and feels like it is cut from the exact same cloth. This time adopting a mix of live action and animation, Folman challenges reality and our perception of it, creating a fantastical film that says so, so much about our refusal to cope with what is in front of us.
21. FRANCES HA
How can a film about vacuous people be so deep? Okay, Frances isn't exactly vacuous, but she does come across quite deliberately as a self-centred Gen Y narcissist. Yet Gerwig's performance is so rich, nuanced and sympathetic, that we're always on her side, even when she gives us reason not to be. Between this and HBO's Girls, there's a sense of a gneration struggling to define itself, and I believe we're going to look back at this film as a significant generational marker.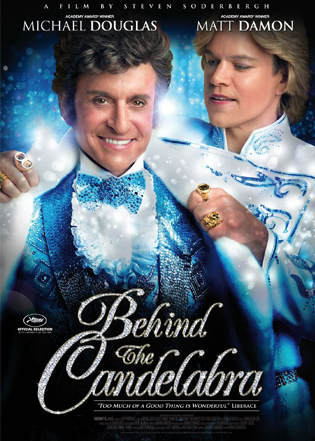 20. BEHIND THE CANDELABRA
The final film from Steven Soderbergh, my favourite working filmmaker, received a cinema release in Australia, despite being made for television in the US. It's fitting that he appears to come full circle, with his final film echoing the themes of his debut, sex, lies and videotape. There's no sense of him winding down, however: the energy and creativity is evident as ever. Michael Douglas, Matt Damon, Rob Lowe, Scott Bakula and Debbie Reynolds are all amazing, helping to create an amazing sense of Liberace's world. After years of trying to figure it out, I still struggle to identify what it is Soderbergh does to me. There's something in the way he constructs every single moment in each of his works that leaves me in complete awe, and Behind the Candelabra is no exception.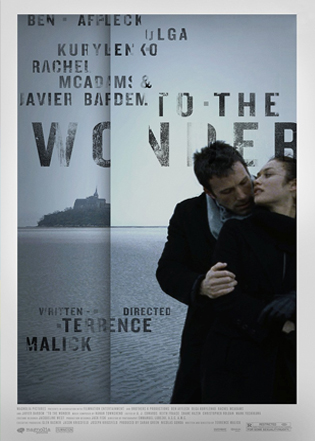 19. TO THE WONDER
Given Terrence Malick's last film, The Tree of Life, was a treatise on All Of Existence, so it's inevitable that is follow-up should be relatively low-key in scope. And yet watching Malick at work makes me feel like we're living alongside a truly great artist, and nobody seems particularly bothered by this fact. That To the Wonder should be so far removed from even the fringes of narrative filmmaking opens it up to ridicule, but Malick is pushing the envelope in a way that so few filmmakers truly are. This is a film about blockages, from Neil (Ben Affleck) and his inability to love, Marina (Olga Kurylenko) and her inability to feel happiness, and Father Quintana (Javier Bardem) and his inability to connect with his own faith. These are heady ideas, and even the cliché of the priest losing his faith feels unique when filtered through Malick's unique lens. Malick plays with the romantic and autobiographical, and leaves us with something sad and profound.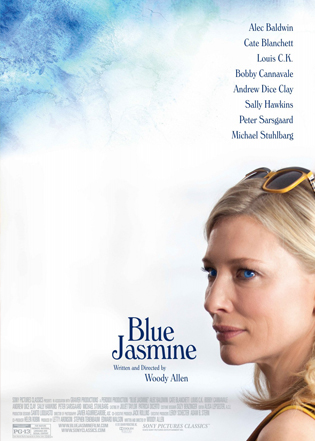 18. BLUE JASMINE
The best of Woody Allen's recent films have focused on specific, rarely-explored ideas. Whatever Works suggested contentedness was more important than an idealised version of true love, and Midnight In Paris examined the destructive side of nostalgia. Blue Jasmine is about maintaining the real, tangible elements of your life. Woody Allen avoids the usual cynical Hollywood trick of working class idolatry, instead showing that the way in which impossible dreams destroy you is something that transcends class. In some ways, it's about settling, showing a pragmatic side to Allen that replaces the romantic side we still believe he has nearly forty years after Manhattan.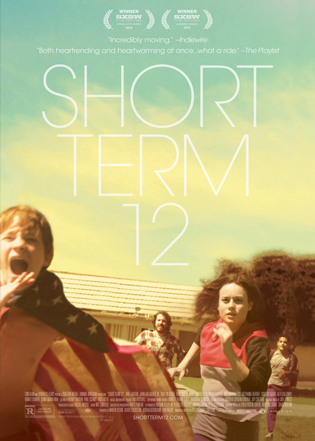 17. SHORT TERM 12
With echoes of Samantha Morton's directorial debut The Unloved, Short Term 12 depicts life in a foster care facility for troubled kids, and the lives of the people who work there, not much older than the teens they care for. Writer/director Destin Cretton does a remarkable job, and the level of casual detail communicates a real understanding and insight into the world. Brie Larson and John Gallagher Jnr are intensely watchable as the lead counsellors, with Larson's Grace the stunning centrepiece. Cretton nails every moment of drama and comedy, and finds the perfect moments to deploy a stylistic cinematic flourish in an otherwise vérité-esque film. Scarily good stuff.
16. STOKER
There's always the concern that any foreign language filmmaker finally lured to the US will see the corners of their more extreme nature rounded off out of necessity. This isn't the case with Park Chan-wook, for although his usual predilection for sex and violence isn't as overt, it still fills every frame, and in an almost Hitchcockian manner is more insidious by its absence. Park is on top form, and it's impressive that we still get a strong sense of writer Wentworth Miller's voice, his style neither overwhelmed nor diluted. Every frame is a work of art in a way that we haven't really seen since 2009's Control, every moment dripping with metaphor and meaning. It's a story that is about so much: identity, family, perception, sexuality, violence, desire, hidden nature. And yet it never feels overdone.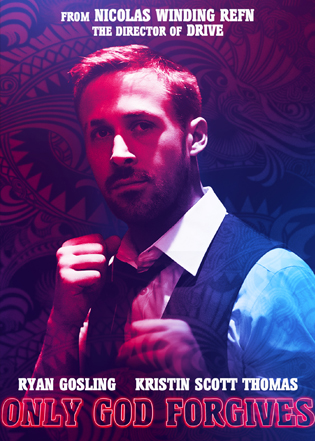 15. ONLY GOD FORGIVES
It's practically impossible to tell where Nicholas Winding Refn's sense of humour starts and where it ends. Only God Forgives is an exercise in violence that, depending on your perspective, may contain moments of extreme black comedy. For instance, is his inclusion of karaoke – which has a very different meaning in Thai culture – immediately following scenes of extreme violence meant to be funny or serious? These feel like absurd moments to me, but they're presented in such a dramatic yet knowing style, I feel that Refn is being deliberately unknowable. Combining the body horror of Cronenberg with the nightmarish formalism of David Lynch, Refn does not shy away from giving us God, the Devil and even Oedipus as fully-realised figures. He places us into a subjective reality that makes us question whether we're actually in a terrifying afterlife in which sinners are finally judged. As in Lynch's Lost Highway, we're unsure if the frightening avenging angel is a force of good or evil. Figuring this out means unravelling the film's meaning, and its deceptively overt title.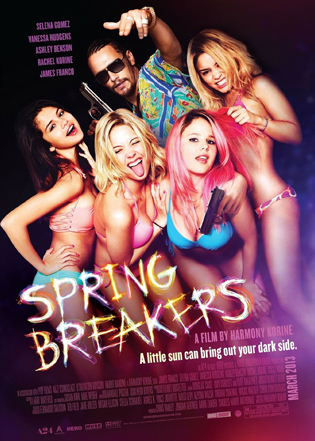 14. SPRING BREAKERS
Before heading into this film, I said that it was surely going to end up on either my best or my (ever-unpublished) worst list, fairly confident that it would be on the worst. But far from being simply depraved exploitation, Spring Breakers is a scathing satire on the state of the USA, the American dream, and modern perceptions of happiness. Harmony Korine directs in a way that recalls Soderbergh at his most esoteric (think The Limey, for I so often do), and the use of Cliff Martinez as composer only serves to highlight this. The end result is an aesthetically-pleasing, hyper-intelligent film that tells a tale far deeper than its marketing suggests.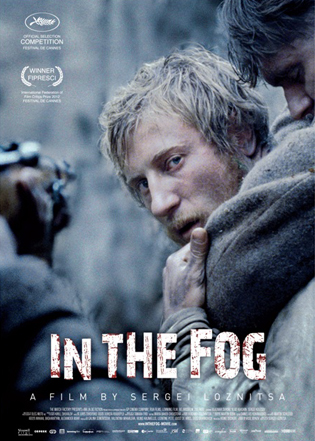 13. IN THE FOG *
Echoing the pace and themes of last year's amazing Once Upon a Time In Anatolia, In the Fog follows two Russian soldiers preparing to execute a man suspected of collaborating with the Germans. The flashbacks to each of their stories alters what we know about them, and the film shows how a slight change in fortune can change someone from a perceived hero to a perceived villain. The pacing is gorgeous, the cinematography stunning. The ending is, as with all great endings, both inevitable and unpredictable.
12. IRON MAN THREE
Iron Man Three was a difficult trick to pull off for many reasons, not least because it had to follow the epic, larger-than-life The Avengers. But what I found fascinating about this film is how it follows the blueprints of two other Batman parts three. Thematically, it's The Dark Knight Rises as it examines terrorism and the media, juxtaposing a charismatic villain against a hidden one. Structurally, it's Batman Forever, with the journey of Aldrich Killian (Guy Pearce) almost identical to that of Jim Carrey's Riddler, The Mandarin essentially Tommy Lee Jones's Two-Face, Pepper Potts as Nicole Kidman's Chase Meridian, our hero recruiting a kid without parents, and a big third-act fight with a new sidekick on a manmade island. None of this explains why I loved it, mind you, I just wanted to put my theory into print. No, my love of this film comes down to writer/director Shane Black, who uses the fact that it's following The Avengers to his advantage, giving Tony Stark PTSD and an existential crisis. The action sequences are brilliant and thrilling, and the comedy is turned way up. This is how you do a blockbuster.
11. LINCOLN
There are some films that make you a little anxious when the time comes to put them on your best of list. They're not the controversial ones – those are fun – but the ones that are considered middle of the road. You'd think Steven Spielberg, Tony Kushner and Daniel Day Lewis doing a biopic about Abraham Lincoln ending slavery would make this an easy entry, but for that exact same reason, it's the opposite: their names carry the weight of awards and "worthiness", that it makes it hard to foster any sort of personal connection. Yet that's what happened. Released in Australia in January, Lincoln has stayed with me all year. The parliamentary scenes, the long debates, the wonkish adherence to the process kept me glued. Capturing the mundanity of revolution without falling victim to undramatic dullness is what Kushner does best. His script navigated these scenes and those of personal drama with deft ease, and executes an extremely clever take on an overly familiar moment. The lack of a big, memorable scene may confine the film to the Amistad section of Spielberg's oeuvre, but for me this is a film I didn't just admire: it's one I loved.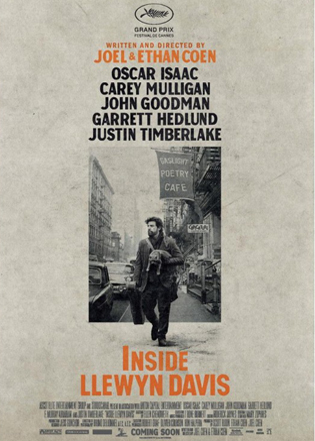 10. INSIDE LLEWYN DAVIS
This is another film that, due it not being out yet in Australia, I am embargoed against discussing. So, for now, let me reiterate my love of the Coen Brothers. I promise to go into greater detail in the future.
9. HER
The same applies to Her, which has a looser embargo in place, but one I'll respect by avoiding specifics. All I'll say is that Spike Jonze's film about how we medicate the human condition through technology and affluence may well be the best thing he's ever made.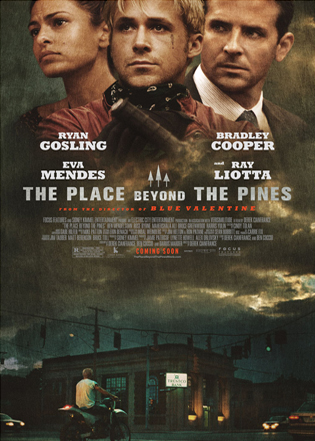 8. THE PLACE BEYOND THE PINES
Like so much great cinema, Derek Cianfrance's film takes a strong central idea – that violence perpetuates violence – and plays it out to its logical conclusion. But it's the way it subtly enhances that idea in its smallest moments that impresses the most. The repetition of small moments and sounds, such as the ice cream or the noise of the motorcycle, places the things we hope we'll pass on to our children directly next to the things we actually pass on. Cianfrance's structure is brave but successful, and his control of the aesthetics masterful.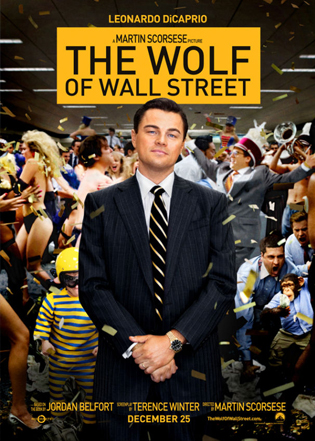 7. THE WOLF OF WALL STREET
Apologies: this is another embargoed entry. The Wolf of Wall Street isn't out in Australia until January 23, and because I can't talk about the film, I can at least say this about Martin Scorsese: he's in absolutely no danger of losing the title of our greatest living filmmaker.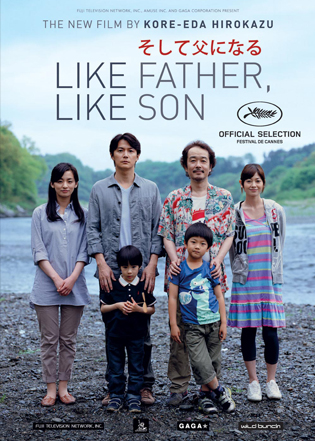 6. LIKE FATHER, LIKE SON
Hirokazu Koreeda's best film since 2008's Still Walking is, in one sense, a nature vs nurture story, as two markedly different families discover their sons were switched at birth. One family is strict and disciplined, the other is laid back almost to the point of lethargy. Koreeda's skill is in taking a setup that should be gut-wrenching, and forcing you to laugh at the absurdity of it all. Laughter is the way to deal with pain, he tells us, and as he masterfully weaves through every permeation of his premise, it's hard to imagine a topic that he wouldn't approach with a grace and insight few others could hope to manage.
5. GRAVITY
I'm less willing to invoke the hallowed title of 2001: A Space Odyssey even with the qualifier of "since", so you'll appreciate what a big deal it is for me to join the chorus in proclaiming this the finest and most immersive feeling of being in space since Kubrick's masterpiece. Alfonso Cuarón has always been great at misenscene, using long continuous shots to powerful effect, and the incredibly long shot he opens the film with is no exception. It's not just there to provide spectacle: he makes us feel isolated and alone and cold in a way that so few films about astronauts come close to achieving. I have issues with the way in which the emotional backstory is handled, not to mention as some of the dialogue, but the fact that Gravity should rank so highly on my list despite these problems is a testament to just how much this instantly-seminal film gets right.
4. 12 YEARS A SLAVE
Director Steve McQueen's adaptation of Solomon Northup's autobiography has an honesty to every moment that feels lacking from the usual films of this ilk. In fiction, humans are motivated in such a binary fashion: if they attack you, they're angry, if they let you go, it's because of a moment of compassion. In real life, things are rarely this simple, so the fact that Solomon escapes physical torment from his owner by the simple method of the chase feels more accurate than a more traditionally thrilling moment of escape. It's not a turning point. It's just survival. Moments that would be considered dramatically dull in works of fiction are here all the more compelling for having the inescapable whiff of truth. McQueen's work is amazing, and Chiwetel Ejiofor is finally given the chance to exploit his undeniable charisma and screen presence in a strong, central role. One scene features Ejiofor as Solomon staring contemplatively into the distance, in a single close up that holds without deviation for well over a minute. It's a brave and compelling moment, and is the best example of this film's power.
3. WADJDA
How can you put into words your feelings about a film that gets everything right, despite the impossible odds it faces? Do we focus on the fact that it's the first feature film ever made in Saudi Arabia, or the fact that it's the first feature film ever made by a female Saudi director? That in making a coming-of-age film that examines the Middle Eastern oppression of women, it manages to adopt a suitably angry tone whilst still being funny, gentle, subtle and funny? I said funny twice on purpose, because it really is. Haifaa al-Mansour's film follows Wadjda (Waad Mohammed), an eleven-year-old girl who dreams of owning her own bicycle so she can race her friend Abdullah, even though girls riding bicycles is heavily discouraged. You'd be forgiven for thinking that, based on the description, it was a dour exercise in film festival clichés. Again: it's one of the funniest films of the year. And despite having no first-hand knowledge of what it's like to be a headstrong girl growing up in Saudi Arabia, I was struck by the honesty of every moment. There is no detectable cinematic artifice. Wadjda herself is such a force of nature, and easily the most compelling character of 2013. In a film full of extraordinary feats, the biggest one is that al-Mansour's film makes you want to immediately watch it again. You really have to see it.
2. MUCH ADO ABOUT NOTHING *
As a devoted, obsessive fan of both Shakespeare and Joss Whedon, it's hard to imagine a scenario in which I wouldn't love this film. But to call this a fait accompli is to undersell just how great this film is. Whedon's interpretation of the text is faithful and brave, and more accessible than any other Shakespearean adaptation I've seen. The performances are all superb, and often more natural than those managed by many traditional Shakespearean actors. Laugh-out-loud funny throughout and beautiful to look at, this provided me with the most amount of joy I've had in a film all year.
1. UPSTREAM COLOR
I spend a fair amount of time trying to figure out where cinema can possibly go next. At the risk of sounding like one of those people who make predictions that are destined for coffee table books of quotations (ie: "I can't see this telephone contraption taking off!"), it's hard to shake the feeling that every major obstacle has been conquered. All cultural taboos have been broken, and thanks to CGI, anything you can imagine can be feasibly realised. Where is left to go? Shane Carruth is one of the few people I suspect knows the answer. Nine years after his seminal science fiction drama Primer, Carruth proves he truly is operating on another level to everybody else in Upstream Color. His film about two people drawn to one another due to a parasite-induced hypnosis is more than just esoteric randomness. He is telling a very focused story about duality and interconnectedness and gods and humanity in a way that may seem deliberately obfuscating, but is obviously completely linear in his own eyes. It feels trite to talk about such a dense, evocative work in a straightforward manner when it's more about the experience than the academic deconstruction of themes. I don't know what the future of cinema is, but I'm confident it's linked to Shane Carruth.
New Release Films Seen In 2013: Guilt Trip, Silver Linings Playbook, Flight, Lincoln, Elles, Laurence Anyways, Hansel and Gretel: Witch Hunters, The Sweeney, Movie 43, West of Memphis, Side Effects, I Give It a Year, Blinder, Oz: The Great and Powerful, Hyde Park on the Hudson, Performance, Mama, In the Fog, A Good Day To Die Hard, Jack the Giant Slayer, Warm Bodies, Mea Maxima Culpa: Silence in the House of God, The Incredible Burt Wonderstone, Much Ado About Nothing, You Ain't Seen Nothin' Yet, Promised Land, Trance, The Paperboy, This is the End, The Company You Keep, The Other Son, Oblivion, Antiviral, Olympus Has Fallen, The Place Beyond the Pines, Spring Breakers, Iron Man Three, Passion, Upstream Color, Star Trek Into Darkness, The Call, Happiness Never Comes Alone, Sinister, The Great Gatsby, Much Ado About Nothing, Monsters University, Satellite Boy, The Reluctant Fundamentalist, After Earth, World War Z, To the Wonder, Mud, Man of Steel, Behind the Candelabra, We Steal Secrets: The Story of Wikileaks, The Lone Ranger, Only God Forgives, Mood Indigo, Mystery Road, Pacific Rim, Frances Ha, Before Midnight, 100 Bloody Acres, The Best Offer, The World's End, Greetings From Tim Buckley, Now You See Me, The Wolverine, Beyond the Hills, The Bling Ring, Red Obsession, I'm So Excited!, Bends, Dirty Wars, Fruitvale Station, Ain't Them Bodies Saints, You're Next, Fatal Assistance, I Declare War, Patrick, The Congress, A Field In England, The Spirit of '45, Wadjda, Like Father Like Son, Blancanieves, The Act of Killing, Magic Magic, Gore Vidal: The United States of Amnesia, The Missing Picture, Stories We Tell, Ginger and Rosa, Oh Boy, Cutie and the Boxer, The Past, Museum Hours, Muscle Shoals, Broken, Alan Partridge: Alpha Papa, Computer Chess, A Field In England, Rewind This!, Pain and Gain, The Way Way Back, Stoker, Blue Jasmine, Elysium, White House Down, Lovelace, Prisoners, Diana, Gravity, Runner Runner, 2 Guns, Machete Kills!, Grudge Match, Sister, The Butler, Captain Phillips, Fly Me to the Moon, Inside Llewyn Davis, A Hijacking, Stranger By the Lake, Ida, Gravity, Thor: The Dark World, The Counselor, Abot Time, Enough Said, In Bob We Trust, Kill Your Darlings, Filth, Rush, The Prime Ministers: The Pioneers, Mandela: Long Walk to Freedom, The Fifth Estate, The Spectacular Now, The Hunger Games: Catching Fire, One Chance, How I Live Now, Ender's Game, The Gilded Cage, Nebraska, Carrie, Frozen, Last Vegas, 12 Years a Slave, Blackfish, Short Term 12, American Hustle, Prince Avalanche, August: Osage County, The Secret Life of Walter Mitty, The Railway Man, The Look of Love, Saving Mr Banks, Drinking Buddies, Philomena, The Book Thief, Her, The Hobbit: The Desolation of Smaug, The Wolf of Wall Street, The East, Byzantium, Dallas Buyers Club, What Maisie Knew, Shopping, The Central Park Five, White Reindeer.
Older Films Watched In 2013: The Spanish Gardener (1956), A New Leaf (1971), The Heartbreak Kid (1972), Mikey and Nicky (1976), Ishtar (1987), Ossessione (1943), The Earth Will Tremble (1948), Bellissima (1951), Senso (1954), Le Nottie Blanche (1957), Rocco and His Brothers (1960), The Leopard (1963), Sandra (1965), The Stranger (1967), The Damned (1969), Death In Venice (1971), Ludwig (1972), Conversation Piece (1974), L'Innocente (1976), Rampart (2011), The Pirates! Band of Misfits (2012), Mauvaise Graine (1934), The Major and the Minor (1942), Five Graves To Cairo (1943), Double Indemnity (1944), The Lost Weekend (1945), The Emperor Waltz (1948), The Hustler (1961), The Color of Money (1986), Citizen Ruth (1996), The Descendants (2011), Election (1999), About Schmidt (2002), Sideways (2004), Sunset Blvd. (1950), A Foreign Affair (1948), Ace In the Hole (1951), Song of the South (1946), The Sweatbox (2002), Stalag 17 (1953), Sabrina Fair (1954), The Seven Year Itch (1955), The Spirit of St Louis (1957), Love in the Afternoon (1957), Witness For the Prosectuion (1957), A Swedish Love Story (1970), Giliap (1975), The Sleepwalker (La Sonambula) (1998), Songs From the Second Floor (2000), Star Trek: The Motion Picture (1979), You, the Living (2007), Star Trek II: The Wrath of Khan (1982), Nine Queens (2000), Star Trek III: The Search For Spock (1984), Star Trek IV: The Voyage Home (1986), Murder a la Mod (1968), The Wedding Party (1969), Dionysus (1970), Hi, Mom! (1970), The Aura (2005), Get To Know Your Rabbit (1972), Sisters (1973), Phantom of the Paradise (1974), Obsession (1976), The Fury (1978), Carrie (1976), Home Movies (1980), Wise Guys (1986), Dressed To Kill (1980), The Neverending Story (1984), Blow Up (1966), Blow Out (1981), Casualties of War (1989), Bonfire of the Vanities (1990), Scarface (1983), Body Double (1984), Raising Cain (1992), Snake Eyes (1998), Carlito's Way (1993), Mission To Mars (2000), Femme Fatale (2002), Redacted (2007), Star Trek V: The Final Frontier (1989), Star Trek VI: The Undiscovered Country (1991), Star Trek (2009), Some Like It Hot (1959), Murder By Decree (1979), Jackie Brown (1997), Kill Bill Vol. 1 (2003), Kill Bill Vol. 2 (2004), Inglorious Basterds (2009), The Apartment (1960), One, Two, Three (1961), Irma La Douce (1963), Kiss Me, Stupid (1964), The Fortune Cookie (1966), The Private Life of Sherlock Holmes (1970), Speed Racer (2008), Hot Shots! (1991), Avanti! (1972), The Front Page (1974), Fedora (1978), Buddy Buddy (1981), Back to the Future (1985), Back to the Future Part II (1989), Back to the Future Part III (1990), Harry Potter and the Philosopher's Stone (2001), Harry Potter and the Chamber of Secrets (2002), Harry Potter and the Prisoner of Azkaban (2004), Harry Potter and the Goblet of Fire (2005), Harry Potter and the Order of the Phoenix (2007), Harry Potter and the Half-Blood Prince (2009), Harry Potter and the Deathly Hallows Part One (2010), Harry Potter and the Deathly Hallows Part Two (2011), I'll Take You There (1999), Serious Moonlight (2009), Pensionat Oskar (1995), Open Hearts (2002), Things We Lost In the Fire (2007), Brothers (2004), After the Wedding (2006), Waitress (2007), The One and Only (1999), Patrick (1978), Oldboy (2003), Suddenly Manhattan (1996), The Sugarland Express (1974), 1941 (1979), The Color Purple (1985), Always (1989), Close Encounters of the Third Kind (1977), The Lost World: Jurassic Park (1997), Empire of the Sun (1987), Jaws (1975), Schindler's List (1993), Duel (1971), Something Evil (1972), Savage (1973), Piranha 2: The Spawning (1981), The Terminator (1984), The Abyss (1988), Terminator 2: Judgment Day (1996), Ghosts of the Abyss (2003), Aliens of the Deep (2005), Titanic (1997), Aliens (Director's Cut) (1986), True Lies (1994), Avatar (2011), Ruthless People (1986), Top Secret! (1984), The Naked Gun (1988), The Sure Thing (1985), The Princess Bride (1987), When Harry Met Sally (1989), Ghosts of Mississippi (1996), North (1994), The Story of Us (1999), Alex and Emma (2003), Rumor Has It… (2005), Flipped (2010), Misery (1990), A Few Good Men (1992), The Magic of Belle Isle (2012), The Wicker Man (The Final Cut) (1973), Pushing Hands (1992), The Wedding Banquet (1993), Eat Drink Man Woman (1994), Crouching Tiger, Hidden Dragon (2000), The Ice Storm (1997), Ride With the Devil (1999), Brokeback Mountain (2005), Lust, Caution (2007), Taking Woodstock (2009), The Loveless (1981), Near Dark (1987), The Secret Life of Walter Mitty (1947), Point Break (1991), Blue Steel (1989), Strange Days (1995), The Weight of Water (2000), K-19: The Widowmaker (2002), The Hurt Locker (2008), The Lavender Hill Mob (1951), Fantastic Mr Fox (2009), It's a Wonderful Life (1946), Kind Hearts and Coronets (1949).
Short Films Watched In 2013: Award Winning Gay Short (2012, Appunti Su Un Fatto Di Cronaca (1953), R'Ha (2012), Il Lavoro (segment of Boccaccio '70) (1962), Anna Magnani (segment of Siamo Donne) (1953), La Strega Bruciata Viva (segment of Le Streghe) (1967), Death Mills (1945), Carmen (1985), The Passion of Martin (1990), My Secret Moments (segment of Inside Out I) (1991), The Houseguest (segment of Inside Out III) (1992), 14E Arrondissement (segment of Paris, Je T'aime) (2006), Visiting One's Son (1967), To Fetch a Bike (1968), Saturday October 5th (1970), World of Glory (1991), Something Has Happened (1987), The Waiting (La Espera) (1983), Woton's Wake (1962), The Responsive Eye (1966), The Score (2013), The Blue Umbrella (2013), Reporting on The Times: The New York Times and the Holocaust (2012), Amblin' (1968), Clapping For the Wrong Reasons (2013), Xenogenesis (1978), Get a Horse! (2013)
* in the interest of full disclosure, this film was released by Sharmill Films, where my wife is the marketing manager