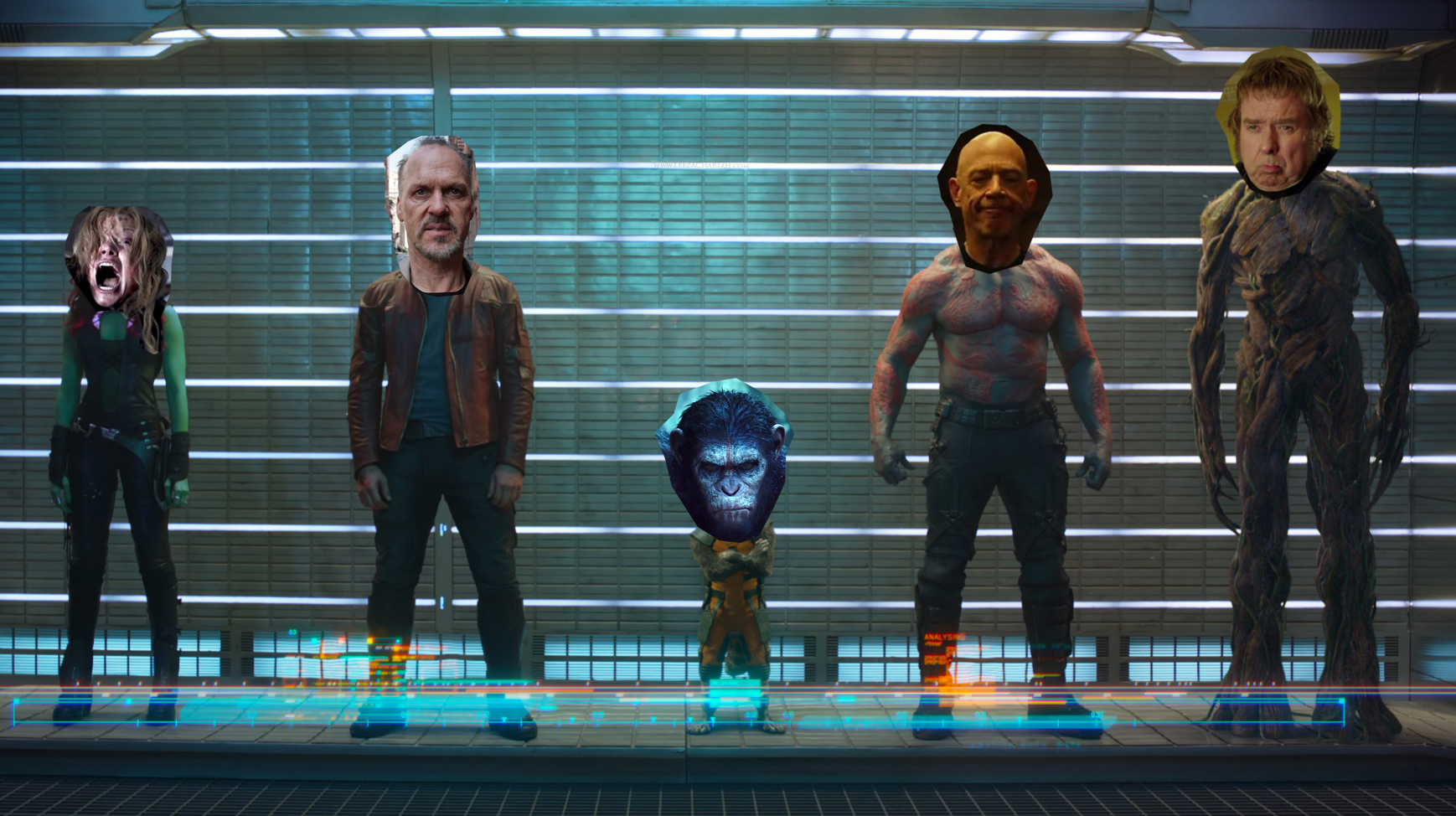 You know, they laughed at Galileo, too. Especially when he published his list of fifty favourite planets, and other astronomers were like "Dude, we don't have ten planets in this solar system, and we won't even discover Neptune for another two hundred years."
Nevertheless, he was remembered as the father of modern observational astronomy, and I believe the same will happen to me, which is annoying because all I'm trying to do is publish a list of my favourite films of the year.
There are many reasons I do a top fifty. The main one is that with the sheer number of films I see each year, both new releases and film festival titles, if I'm not seeing fifty films minimum that I can say I love – not just like but love – then I'll pack it in and take up something easier. Like astronomy. Sorry, I don't know why I'm so hung up on astronomy at the moment.
There are lots of other reasons, but I won't go into them all now. But the long and short of it is that I loved all of these films and would recommend them in a heartbeat.
Don't try to look for any logic in the release dates here. I try to go for the film's proper year of release, which means titles like Django Unchained, The Wolf of Wall Street, Her, 12 Years a Slave and Inside Llewyn Davis were on last year's list. However, some Australian release dates mean I couldn't make this an across-the-board rule. And despite my best efforts, I was unable to see titles such as Inherent Vice, Selma, CitizenFour and The Overnighters. So it's an unwieldy mix, but just go with it.
But enough of that. Settle in with a hot drink, 'cos unless you're just skimming the titles – and I wouldn't blame you if you did – we're gonna be here for a while.
The Ten Best Documentaries of 2014
Oh yeah, I separate out the documentaries list too. Did I not mention that? So it's really a top sixty. COME AT ME, HATERS.
Special Mention: GERMAN CONCENTRATION CAMPS FACTUAL SURVEY
Okay, sixty-one. I really wasn't sure where to place this. Is it a film of 2014? It only came out this year, but it was filmed in 1945, with the editing and narration strictly as dictated by the filmmakers at the time. This account of the Nazi concentration camps was filmed because it was felt people needed to see what had happened, but plans were shelved when it was deemed to be counterproductive to the European rebuilding efforts. Alfred Hitchcock worked on this edit, and footage made its way into Billy Wilder's Death Mills (1945). This was one of the most affecting experiences I'd seen all year, and the decision to keep to the original post-production plan made it feel all the more rooted in its time.
10. IS THE MAN WHO IS TALL HAPPY?
As much as I love auteur theory, you can't deny that the best films only exist due to collaboration, and that some of the most pleasant surprises have come from the most unexpected of pairings. In this instance, the intellectual concepts of Noam Chomsky and the surreal imagery of Michel Gondry make for a perfect marriage. Gondry interviews Chomsky, and the film is as much about Chomsky's intellect as it is about Gondry's attempts to make the film we are watching, painstakingly animating nearly all of it in a beautiful and surreal way.
9. THE GREEN PRINCE
A big problem I have with films that trade heavily on the currency of "true story" is that so many of them undermine the implicit contract with the audience by taking numerous liberties. And when The Green Prince ended, I had to immediately research it to find out how much of it was faked or exaggerated. As best as I can tell, none of it was. Which makes this deliberately contained story of two men – a Palestinian and an Israeli on different sides of an unresolvable conflict – who form an impossible relationship that itself serves as a parable for the political powers. That a story like this can be so personal, so epic, and so real is what makes this such a gripping watch.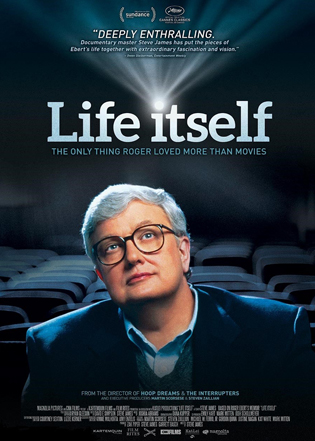 8. LIFE ITSELF
I almost didn't see this film, because I'm really not part of the generation that read Roger Ebert religiously: being on the other side of the world, I was unaffected by his column and his TV show, only tangentially aware of him via pop culture. He was not in my orbit, so the outpouring of grief and tributes when he passed surprised me greatly. Life Itself played well to many who already revered the influential film critic, but it also worked for someone like me. This amazing film showed him at his weakest and at his most powerful, in both instances with his consent. We get a strong sense of his character both personally and professionally, experiencing the best and worst of the man, and the film wisely does not assume knowledge on the part of the viewer. That I went in oblivious and left touched is a testament to the filmmaking, which I'm sure Ebert would have appreciated.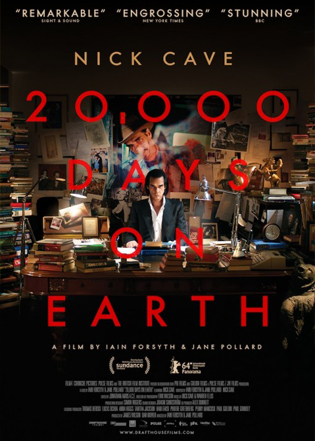 7. 20 000 DAYS ON EARTH
Eschewing the whole idea of fly-on-the-wall realism that so many documentaries automatically employ, 20 000 Days on Earth depicts the life of musician and songwriter Nick Cave in artistic, borderline surreal ways. Figures such as Kylie Minogue and Ray Winstone appear and disappear in the back of his car: their entrances and exits are contrived, but their conversation in-between is real. Directors Iain Forsyth and Jane Pollard do to Cave what the best filmmaking does to the best music: enhances it, complements it. It doesn't matter what you think of Cave or his music; the film is valuable regardless. And for a film that focuses so heavily on his music, his process, his life and his personality, this is no small feat.
6. THE UNKNOWN KNOWN
Much like the extraordinary Fog of War – the 2005 documentary in which filmmaker Errol Morris interrogates Robert McNamara – The Unknown Known features former US Secretary of Defense Donald Rumsfeld in a fairly straightforward Q&A, with photographs and graphics illustrating history and context. It's oddly fitting that Rumsfeld should be remembered for the titular phrase above all else, simultaneously gobbledegook and profundity. There's a philosophy to the idea of unknown knowns that's fascinating, but Rumsfeld applied it in a way that was militarily devastating. And so too, Errol Morris applies his own interrogation devastatingly, allowing Rumsfeld to walk himself so strangely into statements that seem to have no connection to reality. It's impossible to make a film like this and not twist it in some way – filmmaking is, inherently and unavoidably, the twisting of truth – but what Morris discovers is something deeper and more interesting. A devastating pause allows us to draw the conclusion that Morris wants us to, in a way that Hitchcock and his forced audience inferences would marvel at.
It's impossible not to love every character in this beautiful, Australian-made documentary. The story of jazz legend Clark Terry and his young blind protégé Justin Kauflin is a touching one, delicately balancing the story of Terry's early career with his current life. The insight into how and why people are attracted to jazz is profound for such a light film. But the way in which the documentary focuses on the journeys of these people, both historical and present, is deft and focused.
4. SALT OF THE EARTH
It's not surprising that Wim Wenders was so captivated by the amazing photographs of Sebastião Saldago when he chanced upon them years ago. Now, along with Saldago's son Juliano, Wenders tells the astonishing story of his life and work. The pair cleverly and appropriately echoes the style of his photographs in the filming of the documentary, though the locations do much of the heavy lifting: there are some truly breathtaking landscapes that are a stark contrast to the examinations of human suffering. Saldago's work is important, and the film is a monument to that, revealing the scope of his achievements that resonates even amongst those who have never heard of him.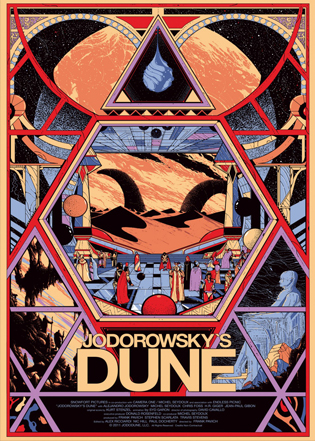 3. JODOROWSKY'S DUNE
In the game Movie God (originated on the Motion/Captured Podcast), you are given the option to wipe out one of two films from existence. Say, Lawrence of Arabia or 2001: A Space Odyssey. It sounds at first like a destructive, trivial game, but it actually forces you to consider the knock-on effect of your decision: which films, which careers never come to fruition because one lone film was removed from the continuum? The final decision, though fun in its agony, is less important than the process you take to reach it. Jodorowsky's Dune feels like the film adaptation of this game: someone has removed one of the most influential films of all time from reality, and we are forced to consider the consequences. The difference here is that by not getting made, this particular version of Dune may have had a far greater influence on cinema over the past four decades. It's extraordinary to discover how far the elements of this unmade film have travelled, and it's gratifying to see the behind-the-scenes story brought into the limelight. Jodorowosky's enthusiasm is infectious, his love of filmmaking almost unparalleled as he takes us through the process to (almost) realise his vision. It is an wonderful work; I just wish the Movie God had allowed this one to live.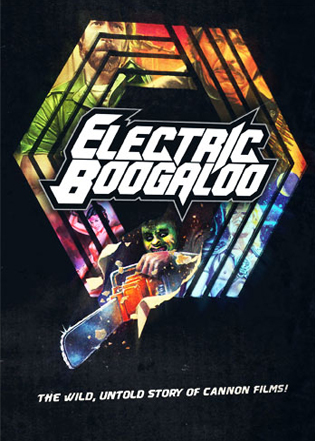 2. ELECTRIC BOOGALOO: THE WILD, UNTOLD STORY OF CANNON FILMS
Mark Hartley's trilogy of documentaries examining the history of exploitation cinema comes to a brilliant end with the insane history of Cannon Films. This is every bit as explosive, informative and hilarious as his last two entries, and I think I laughed out loud in this film than in most comedies. The merciless juxtaposition of the right film clip with the right interviews, the perfect deployment of a piece of information at the crucial moment, is what made this adrenaline-pumping format – so far away from the traditional idea of what a documentary is – so winning. It's a shame that Hartley won't be making any more documentaries given how well he does them, but seeing this trilogy come to such an incredible close is satisfying enough.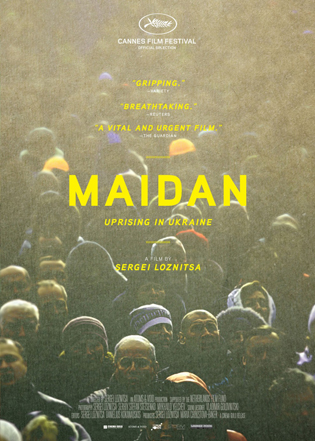 1. MAIDAN
"From somewhere at the back of the crowd, a single voice started to sing a tune which would have enabled Paul McCartney, had he written it, to buy the world." That beautiful line from Douglas Adams's Life, the Universe and Everything flittered through my head as a traditional Ukrainian song played in the final moments of Maidan. It moved the cinema audience to tears; an audience that may not have been expecting such a moving sequence. When Maidan begins, it is a remote, observational documentary, similar to last year's fishing trawler-set Leviathan. It silently watches the protests of the Ukraine people against their President for rebuffing the EU and turning toward Russia. A locked-off camera gazes upon seemingly inconsequential moments for minutes at a time as the crowds gather. It is peaceful to begin with: children sing a concert on a stage, and two four-year-olds gingerly wave to the appreciative crowd. But as the months drag on, the protest becomes more dangerous. Riot police move in. Tear gas is deployed by the police and Molotov cocktails by the protestors. Some people are injured; others die. The film never loses its focus, quietly watching the situation devolve, until the final scenes that electrify and move. It is extraordinary documentary making from Sergey Loznitsa, who made last year's supreme drama In the Fog. Somehow classical and revolutionary all at once, which is appropriate for a country trying to hold onto itself. Six months later, I still can't forget that tune.
The Fifty Best Films of 2014
50. 52 TUESDAYS
Even though the premise of this work is unusual – a film both told and shot over the course of a year, tracing the sex change of a mother through the eyes of his teenage daughter – the way it unfolds is not. I expected a relatively standard journey of denial/rejection/acceptance, but it's far cleverer than that. It has an unusual, intriguing and compelling take on the idea, with rich characters and a real sense of purpose. A moving and essential film.
49. RUIN
Amiel Courtin-Wilson and Michael Cody's beautiful Cambodian love story is as simple and pared-back as their previous collaboration Hail. It's a small love story, but a dangerous one as two lovers attempt to evade murder and danger together. It's beautifully shot, and the sound design is incredibly tactile. I continue to be stunned by their films.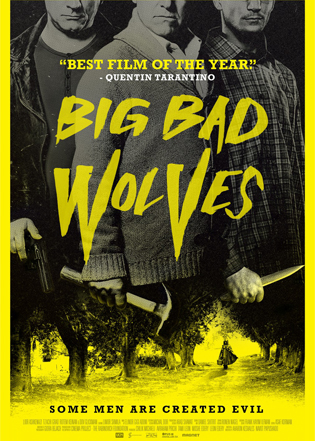 48. BIG BAD WOLVES
Famously praised by Quentin Tarantino, this outstanding Israeli thriller find a new angle on the revenge tale. A grieving father and a disgraced cop collide as they both try to take revenge on the man they believe is responsible for the death of a young girl. It's immensely tense and stylishly directed, with a captivating opening and brilliantly-executed conclusion.
47. A GIRL WALKS HOME ALONE AT NIGHT
This black and white horror film – set in Iran but filmed in Los Angeles – feels like it is cut from the same cloth as Jim Jarmusch's early films, with a bit of Sergio Leone tossed in for good measure. I couldn't quite grasp what the film was until was nearly over, and that's a good thing. It's an unknowable entity, mysterious and haunting, and the mood that writer/director Ana Lily Amirpour evokes is tremendous. It's more creepy than scary, and having a horror film such as this playing off against the limits of Iranian culture gives it a wonderful, unique twist. More like this, please.
46. FOXCATCHER
The slow burn of this film is unlike anything else I've seen in mainstream American cinema. Based on the true story of a wrestler with Olympic ambitions and the multimillionaire who bankrolls him, this is almost exclusively a quiet character piece. Steve Carrell, Channing Tatum and Mark Ruffalo give career-best performances, all three of them unrecognisable as they disappear wholly into their characters. The cold way in which they demand affection and validation and the manner in which emotional punishment is dolled out, reveals them as men who are not in touch with their feelings, and struggle to deal with emotions they don't entirely comprehend. The metaphorical father figures, the reactions to their real parents, and the analogy of the fox chasing are all used to great effect. It's a sublime and truly unlikely work.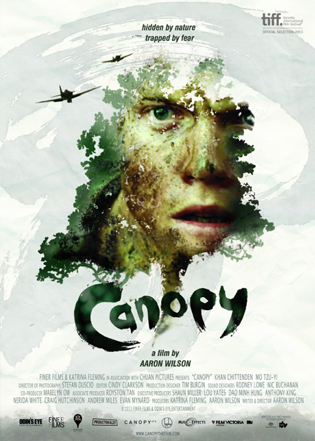 45. CANOPY
Those mourning the unmade Coen Bros project To the White Sea will take heart in Canopy: a brilliantly-restrained Australian film about a World War II soldier trying to survive after he is shot down over enemy territory. Almost completely dialogue free, the film relies on its stunning cinematography and sound design to tell its story. Unlike the protagonist, the film inexplicably managed to fly under the radar. I hope this can be amended.
44. HAPPY CHRISTMAS
When we had Joe Swanberg on Hell Is For Hyphenates this year, it was interesting to hear him discuss the films of Paul Mazursky: both of them take fairly obvious setups, and then spin them off in unexpected directions. At the beginning of Swanberg's Drinking Buddies, I was fairly certain I knew where it would go, and had no problem with what I thought would be a predictable but interesting journey. It thwarted me at every turn, with character choices that were a million miles away from cliché, and totally informed by real, believable motivations. Happy Christmas succeeds in the same way, focusing on the relationship between sisters-in-law who forge their own relationship outside of the brother/husband that connects them. It's really wonderful work from everyone involved, and some of the most engaging character work on screen all year. And Swanberg's two-year-old son is an innately brilliant comedian; he's easily the breakout star of 2014.
43. SNOWPIERCER
This wonderfully unapologetic science fiction film is as non-pandering as they get: wilfully silly, bravely contained, and confident in its concept, Bong Joon-ho's microcosm of humanity contained within a train racing along a post-apocalyptic wasteland is a brilliantly compelling setup that feels like it belongs in the weirder corners of the 1970s. And "weirder corners of the 1970s" is just about the highest compliment you can pay a film.
42. CHARLIE'S COUNTRY
Rolf de Heer's beautiful film puts star and co-writer David Gulpilil front and centre as an Aboriginal man living in a white man's world. This sounds like the beginning of a very familiar journey, and yet the contrast of the cultures has never been more clearly or delicately illustrated than in this stunning work. Charlie's Country is never overwrought or given to excesses of production, but de Heer employs a cinematic flourish when required. This is a masterful work from one of Australia's most interesting filmmakers.
41. WHAT WE DO IN THE SHADOWS
If nothing else, this New Zealand vampire comedy gets the mockumentary format absolutely right. It is such a rare thing, that the film deserves praise for this alone. But the fact that it's achingly funny without ever once appearing to try is what makes it truly great. The film plays with the tropes of vampire lore, and yet, strangely, it feels as if it could only ever have been made in New Zealand. The fact that it feels so fresh on top of all of that is very impressive, and both the ratio and quality of laughs makes this a confirmed future classic.
40. EDGE OF TOMORROW
Although the likes of Groundhog Day, 12:01 and Source Code have trod this ground before, Edge of Tomorrow is a terrific take on the repeating time concept. Cruise may slightly stretch credulity in the role – it feels like it was written for a 20-year-old newbie, and acrobatics are required to cram a 50-year-old actor into the part – but he is genuinely fantastic here, as is Emily Blunt, who gets the chance to show a bit more breadth as a sardonic, experienced, wounded warrior. It's a great, layered performance, and she and Cruise share good chemistry. The script is full of humour, the aliens are genuinely terrifying and intangible, and the direction superb. It's great work from everyone involved, and even when the film loses its central premise, it doesn't actually lose any steam. And I will defend the ending to my dying breath, too.
39. THE DROP
A direct descendent of 1970s New Hollywood, The Drop is all about tough, flawed characters with rich histories and complex emotions, created without a hint of self-conscious macho-aggrandising. Tom Hardy gives one of his best performances ever as a man who is so confident in his being, so without the need to prove himself, that he almost seems weak. Other characters are genuinely weak, and feel the need to flex their muscles to hide this fact. There is so much going on beneath the surface of this film, but it's the confidence and controlled aesthetics that make it such a success. Everyone is superb, especially the late, great James Gandolfini.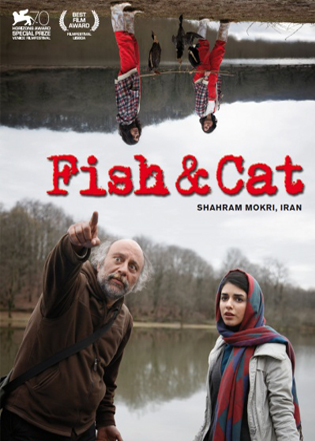 38. FISH & CAT
I'm going to confess something: for the majority of Fish & Cat's running time, I hated it. It was destined to be one of my worst films of the year, but somewhere in the last half hour, something clicked. This high-concept Iranian film is achingly slow, almost to the point of frustration, and yet the magic trick it performs – an unbroken, single take that plays with both time and reality – is so breathtaking in its audacity and execution, I was left flabbergasted by what I'd seen. It boasts a staid, languid pace that will frustrate many, and its narrative is so specific and focused, yet left me confused in a way that more oblique tales (ie: that other famous one-shot film Russian Ark) do not. But when it came together as a whole and I saw it for what it was, it quickly shifted into one my favourite film experiences of the year.
37. MAPS TO THE STARS
I have to say, I'm loving this late-stage Cronenberg. In this part of his career he's taking real risks when many of his contemporaries are doing the opposite. His controlled, dramatic films with Viggo Mortensen (A History of Violence, Eastern Promises, A Dangerous Method) have given way to a weirder aesthetic that puts him a step closer to David Lynch. The films he's now collaborating with Robert Pattinson on are strange and distant. Maps to the Stars feels like the work of an alien trying to understand humanity via Hollywood: weird, self-obsessed people who never speak the truth to one another. But it's not really about Hollywood. It's using Hollywood to explore something deeper, more profound. I love that the metaphors about the destruction of innocence, incest, family, beauty are all so unapologetically overt. There's no obfuscation going on in this weird, amazing film.
36. THE ROVER
David Michôd's long-awaited second film is tonally confident and unafraid of the imposing legacy by the post-apocalyptic Australian genre. But this is a film that could easily share a universe with either Mad Max or The Road: it is the Rorschach of dystopian wastelands as we project our own expectations and beliefs upon it. It is single-minded in its approach: Guy Pearce's Rover is an instantly iconic figure. He has no name, he is driven by a purpose we do not understand until the final moments, and he is almost unbreakable in his resolve. It's a terrific performance, and one beautifully offset by Robert Pattinson as a not-too-bright American who seems more eager for a reliable father figure than anything else. The way his loyalties shift immediately onto Pearce's Rover is touching and unexpected. The Rover may take a while to find its place in the pantheon of great Australian cinema, but it will get there.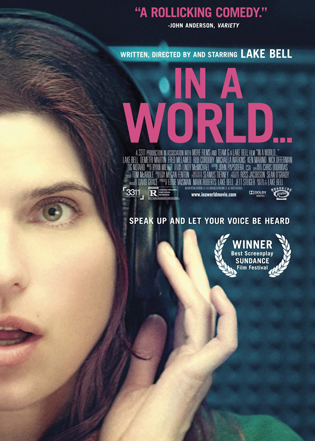 35. IN A WORLD…
Lake Bell's film about an aspiring trailer voice over artist is one of the most deft comedies of recent memory. Every line is hilarious, every character is fun to watch, every scene is spot-on. It's weird that such a laid-back film should feel so tightly-paced, but Bell's skills are clear. That she should end the film on such a serious "message" about women making their voices heard would, in other hands, derail the comedy, but not only is it on-point with the film that's come before, it's deployed effortlessly. Not a wrong note in the entire thing.
34. ENEMY
The most classically David Cronenberg film of the year was not the one directed by him. Enemy echoed much of the master's earlier works, with stark landscape and questionable identities. It feels like something that snuck in through the back door, a quietly subversive work with jarring construction and moments of unabashed surrealism. And those final moments… has any film this year been as successfully bold?
33. THE DOUBLE
The other film about a threatening doppelganger is the second film from Richard Ayoade, and based on the Fyodor Dostoevsky novel. So I'm reluctant to describe it as Terry Gilliam and David Lynch collaborating on Kafka, but that's what it felt like. The palpable sense of unease pervades every moment, and the intangible bureaucracy of this dystopia is razor-sharp, jarring and unsettling. Both leads are superb, and I'd argue this is Jesse Eisenberg's finest performance. I'm amazed this one didn't get more attention.
32. THE SELFISH GIANT
Clio Barnard's debut feature The Arbor was unlike anything I'd ever seen: not quite a documentary, not quite a dramatised narrative, it challenged the idea of how stories can and should be told. Barnard applies this same approach to The Selfish Giant, equal parts an adaptation of an Oscar Wilde story, and a tale based on a couple of kids she met whilst filming The Arbor. The story follows two boys who seek out discarded metal to sell to a local scrap dealer; the more obsessed they get with finding valuable materials, the more dangerous their quest becomes. It sounds bleak, and I suppose it is, but it's captivating, funny, and filled with the most naturalistic performances you're likely to see. Wilde's original story was a fantasy about a giant who tries to keep children out of his yard, and feels a million miles away from Barnard's social realist film. But although Wilde's fable is key to understanding the depths behind this tale, it is by no means necessary: on its own, the film is a complete, satisfying experience. By hinting at a deeper connection to literature beyond the walls of the cinema, Barnard again expands a straightforward story into something more exciting.
31. APPROPRIATE BEHAVIOR
There's a recently-standard idea in modern independent film of women caught in states of arrested development: Frances Ha, Lena Dunham's work, etc. Desiree Akhavan's feature debut gives this sub-genre a whole other dimension, focusing on a bisexual woman unwilling to come out to her Iranian parents. As she deals with a difficult breakup, she lurches from encounter to encounter, each with its own unexpected consequences. The whole film works, but it's Akhavan's sardonic, disaffected screen person that elevates it into something truly hilarious. Is it too much to ask for a new film per year from her? I don't care if it is. I'm asking.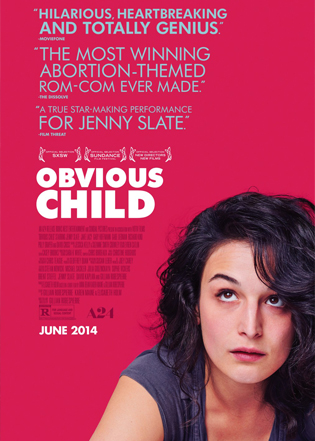 30. OBVIOUS CHILD
After finally watching Parks and Recreation this year (making the transition from someone sick of being told to watch it, to someone who loudly proselytises the show on street corners), I became an instant fan of Jenny Slate, whose recurring Mona-Lisa character is a force of comic genius. I desperately wanted to see Slate in a lead role, and luckily I didn't have to wait long. There's a dual explosion here, in the form of both Slate and writer/director Gillian Robespierre bursting forth with a character that I feel like we've not realised we were longing for. Slate sinks her teeth into this incredible role, and both she and Robespierre make what is ostensibly an abortion comedy look effortless. It's a deceptively complex film: on the surface, very straightforward, but in tackling a rarely-covered topic and doing it without fanfare – not to mention making it so incredibly funny and watchable – they've made one of the best films of the year.
29. FRANK
What looks on the surface to be a deliciously enjoyable premise – Michael Fassbender in a silly papier maché head for an entire film – is actually much cleverer than that. On the surface, it is an incredibly funny, silly film that is brimming with genuine laughs. Underneath, it a profound look at fakery vs reality, the different between artists and celebrities. And while that sounds pretentious, the film is equally critical of everyone. Frank's head isn't just a gimmick: it is a blank slate upon which everyone projects their ideal artist. To some, he is an outsider; to others, a genius who has the capacity to go mainstream. Everyone turns him into what they want him to be, and when those desires come into conflict, that's when it all falls apart. Although everyone contributes to this, to see it from the point of view of what is ultimately the most poisonous member of the group is a very clever device.
When I contributed to the Kickstarter for this film, it was simply because it came onto my radar at a time when I had some disposable cash and decided to throw a little bit of it behind what looked like a cool project. If I'd had any conception of just how great the final result would be, I think I'd have emptied my bank account. The Babadook isn't just a properly terrifying horror film (although it is definitely that), but a film that has a strong statement about grief, about mental illness, and uses it to great effect. It's the fact that it's about something that marks it as an instant classic, and elevates it above even the greatest horror films of recent memory.
27. CAPTAIN AMERICA: THE WINTER SOLDIER
Given I did not grow up reading comic books, and have only a passing knowledge of non-cinematic superheroes, I'm surprised as how much I've taken to Marvel Studio's slate. It's not just that I'm impressed by the long game – and I really am – but each individual film speaks to me on its own merits. Leaving the larger world-building aside, Captain America: The Winter Soldier has a lot to say about the state of our world. Clearly taking its cue from Three Days of the Condor (the Redford casting helps with that), it examines the relationship between safety and freedom in a way that is incredibly pertinent to the 21st century. Exploring this via a man from the 1940s stuck in the modern world is inspired, and it doesn't shy away from the difficult questions, challenging the idea that the 1940s were not as noble as we'd like to imagine and giving our hero some decidedly difficult moral quandaries to navigate. Far from being stuck under the weight of its iconography, Captain America is all about character, about complexity, and most importantly, the world we live in.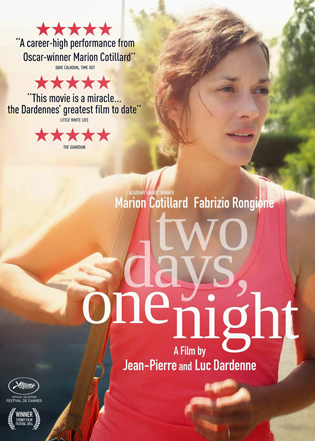 26. TWO DAYS, ONE NIGHT
The Dardenne Brothers continue their exploration of humanity with a film that pits self-interest against empathy and the common good. The idea is explored in a contained way, with every possible reaction that a person could have – from guilt to belligerent to self-interest to pragmatic denial – making this small business drama a microcosm of humanity. But it never feels as if the human drama is secondary to the deeper themes. This is handled so deftly, that you can ignore all of this in favour of the surface drama, as Marion Cotillard's character copes with depression and anxiety. There's not a hair out of place in this wonderful, ingenious film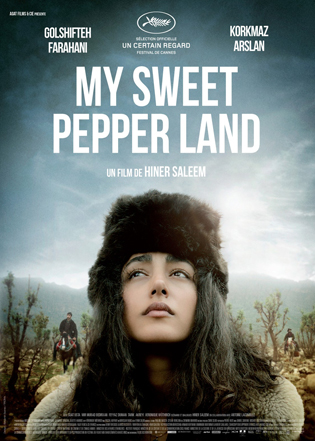 25. MY SWEET PEPPERLAND *
The mere concept of this film – a modern Kurdish Western set on the border of Turkey – is enough to make this a notable work, but the utterly stunning cinematography, the inventive ideas and wonderful set pieces really set it apart. This is a film about women fighting for their liberty in a land increasingly resistant to progressive attitudes, using Western genre tropes but not relying on them. A very modern tale that subtly reinvents the most classic of genres, and featuring some of the best music in any film this year.
24. A HARD DAY
This South Korean crime thriller sets itself apart from films such as Hong-jin Na's The Chaser or Bong Joon-ho's Memory of Murder by being tremendously – and deliberately – funny. This is a comedy as much as a thriller, and each scene is equal parts hilarious and tense. A corrupt cop makes a critical mistake, and must face off against someone even worse than he. From then on, it's a matter of survival as he tries to backtrack through the murky threads he is entangled in to get the upper hand on someone far more powerful and cunning. I haven't had this much fun in a film for some time, and writer/director Seong-hoon Kim instantly proves himself worthy of being added to the every-growing canon of great South Korean filmmakers.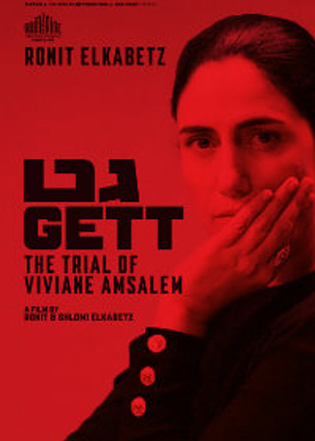 23. GETT: THE TRIAL OF VIVIANE AMSALEM
In a Rabbinical court, a woman yearning for a divorce must convince the Rabbis to grant her one, but she cannot do so unless her husband first give his permission. Gett is a set inside a courtroom over the months and years that our main character, Viviane Amsalem, attempts to win her freedom. It's probably the most confined courtroom drama ever made, and unlike any other I can think of. It's almost an advantage go be unfamiliar with Jewish law, as the details are eeked out over the course of the film like the details of a detective story, and it slowly dawns on us just how little power women have in conservative Jewish society. The title reveals that Amsalem is the one who is on trial, as every detail of her behaviour as a wife and as a women is examined and dissected. Witnesses are brought in to testify to her everyday behaviour. Written and directed by Ronit Elkabetz and Shlomi Elkabetz (Ronit also stars as Viviane), this features a masterfully-executed finale that brings to a close one of the best films of the year.
22. LOCKE
The idea of a film set entirely within a car as a man makes phone calls on the way to an important appointment may sound dull to some, but to me it's an addictive premise. And yet what writer/director Steven Knight does with it is unexpected and surprising. It is not played as a high-concept thriller, but a low-key drama. The central character is a extremely strong, a controlled man whose life is unravelling before him. It unravels due to one mistake, and because he is trying to do the right thing from this point onwards. A single lie could save him much trouble, but he refuses to take the easy route even as his job and family disappear before him. Tom Hardy is superb, and his gentle Welsh lilt gives the character a calming aspect that most other accents would not provide. The juxtaposition of Locke's journey with the story of football player Caldwell is beautiful, and an example of how carefully thought-out every detail of this understated film is.
21. GUARDIANS OF THE GALAXY
Look, I'm aware that Captain America: The Winter Soldier is the better film, but I'm ranking these in order of how much I loved them, and that indefinable unscientific process puts Guardians of the Galaxy very high up. The concept of rag-tag group of weird-looking aliens (including a talking tree and a gun-toting racoon) is such a strange one for a genre that is so heavily associated with everyday humans becoming superheroes, and I think that's its biggest asset. Recognising that it's a harder sell, writer/director James Gunn really puts his shoulder into it, making something that is laugh-out-loud funny, inventive, and infinitely more expansive and detailed than your usual space epic. The casting is what sells it, with Chris Pratt a natural leading man, Zoe Saldana proving once again she can ground science fiction blockbusters better than anyone, wrestling star Dave Bautista almost stealing the show, and Vin Diesel and Bradley Cooper doing some of their best work to date. That's not a backhanded compliment; they're just really good in this. It's a weird, risky sell, and going the extra mile has made it one of the best blockbusters of 2014.
20. DAWN OF THE PLANET OF THE APES
Devoting much of the running time to CGI apes is a gamble that pays off even more spectacularly than in this film's direct predecessor. Respectful of the original series, but not overly and self-defeatingly reverential, Dawn is a brilliant continuation of Caesar's journey. Rise was always a terrific film, but Dawn steps it by making Caesar's journey into mythology all the more epic in scope. Time passes, events have consequences, and the focus is always on the character. There is a complexity of emotion here that makes every battle scene, every action scene all the more wrought with tension. It shows Transformers 4 to be the pretender that it is by giving every scene a real emotional weight. As such, it is one of the best Planet of the Apes films, an absolute masterstroke of writing and direction. If they continue down this path, the new series will rival the original, and as a devoted fan of that first series, that's not a light sentiment.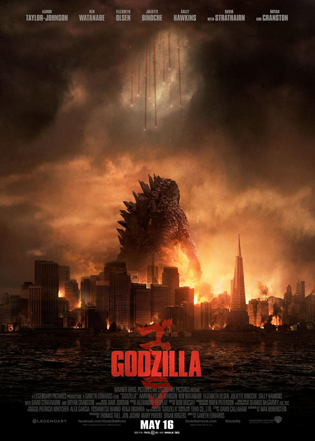 19. GODZILLA
Given how badly the 1998 Godzilla poisoned the well of American remakes – so much so that the 2004 Japanese film Godzilla: Final Wars devotes a whole sequence to making fun of it – I'm amazed that they even considered taking it for another spin without a good thirty year gap for grace. But what I'm even more amazed at is how just how much this version, directed by Gareth Edwards, gets right. It's the perfect mix of serious and fun, in a way that could have been disastrous, but totally pays off: rather than being a po-faced, muted, "gritty" version, there are real attempts to ground the film in a recognisable reality, one that gives us a truly awe-inspiring sense of scale and destruction. And yet they're perfectly happy to dispense with this in order to have some fun. They're not embarrassed by the source material, and jump head-first into some down and dirty monster fights when it's called for. Although there are some problems with the characters – the women aren't served particularly well, although for that matter, neither are all-but-two of the men – this doesn't distract from the true spectacle they've finally achieved in resurrecting the King of Monsters.
18. ALL IS LOST
I missed this film's premiere at last year's Melbourne International Film Festival, so had to wait until its February Australian general release. It was worth it. This Hemingway-esque tale of a man's battle with the ocean, told almost completely without dialogue, is one of the best films to deal with Man vs Nature. Redford's unnamed protagonist doesn't have it easy: his vessel is damaged from word go, and even that opening problem seems insurmountable. From there, things escalate, and it's difficult to imagine this film working as well without Redford's stoicism grounding the proceedings. It's interesting that he feels like the quintessential seadog given he's so heavily associated with the land-locked Utah. For writer/director JC Chandor, this brilliant work sits very nicely between the very-good Margin Call and the excellent upcoming A Most Violent Year.
17. JACKY IN THE KINGDOM OF WOMEN
Riad Sattouf has, in a very short amount of time, proven himself to be a filmmaker who demands our attention. I really like The French Kissers, and I adored Declaration of War, but little in those works had prepared me for Jacky in the Kingdom of Women, an hilarious gender-swapped fantasy telling the tale of Cinderella in a society ruled by women. Sattouf pushes it in all the right ways, making the story just absurd enough to work. The world that Sattouf creates is distinct, with a rich, unique palette. Few films have so keenly observed the manner in which gender and love work in fairy tales, and even fewer have been this entertaining.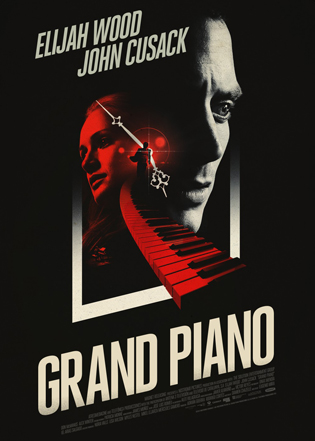 16. GRAND PIANO
There's a certain type of film fan for whom the term "Hitchcockian" is used both sparingly, and as the highest possible compliment. And Grand Piano is sure as hell Hitchcockian. An improbably high concept – a concert pianist (Elijah Wood) must perform a difficult piece to perfection, or a sniper (John Cusack) will shoot him – is exciting and fun, filmed in an utterly thrilling and decidedly cinematic way by director Eugenio Mira. It's equal part inventive and classical, and one of the best thrillers of recent times.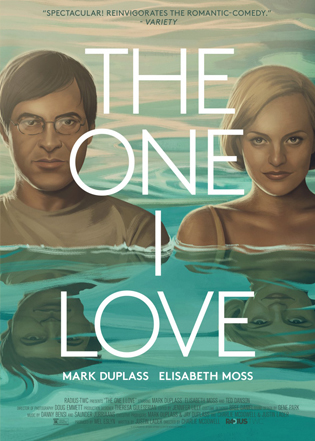 15. THE ONE I LOVE
Here's the premise: a couple experiencing problems go away to a retreat to reconnect, on the advice of their therapist. If that doesn't sound remotely inspiring, you should know that this is part of the genius of The One I Love, because where it goes after this is truly gob-smacking on a character level, a story level, a thematic level. This is a frustratingly clever film, in a good way. Writer Justin Lader, director Charlie McDowell, and stars Mark Duplass and Elisabeth Moss do superlative work in this film that steadfastly defies categorisation. Destined to be a cult classic.
14. INTERSTELLAR
Christopher Nolan's latest film requires a lot of thought. At first, it seems like a mashup of interesting ideas that should gel but perhaps don't: a solemn Kubrickian riff on the nature of mankind, a touching story of a man trying to do right by his family, and an inspiring treatise on exploration. These ideas don't really come together to begin with, and the first act feels frustratingly rushed: every exchange between Matthew McConaughey and his family feels like a setup that will be paid off later, and their chancing upon a government installation (even though it was pre-destined) and McConaughey suddenly becoming their pilot overnight stretches credulity. But then, after that first hour, something happens. The film snaps into place. The style and the themes calcify, and the ideas that drive this film truly come into focus. There are still a few dud moments – the scene in which Anne Hathaway's character ponders the evolutionary advantage of love could have been handled better – but this is easy to forgive given what the film does well. 2001: A Space Odyssey is iconic partly because the concept of Man vs Machine in the vacuum of space is such a primal yet modern concept, and the scene between McConaughey and Matt Damon feels as if it is cut from the same cloth. When we reach the ending – those "beyond the infinite" moments – the film becomes tremendous. The sheer imagination at play here – particularly the physical representation of a whole other dimension – is unparalleled. I'm amazed at how many people were so quick to dismiss it; you cannot dismiss art as well-crafted as this, flawed though it may be. This is gigantic sloppy kiss to 2001, with sound design, score, shots, and even editing that echo very specific moments from Kubrick's masterpiece; strange, given how much originality is involved here. But on a deeper level, it has something important to say about the human condition, and moments that may feel overly sentimental are offset by truly profound insights into who we are as a species. On an aesthetic level, there are many sequences that had me ripping the armrests out of their holders, and I can't recall 70mm IMAX used to such effect. This is what cinema is supposed to do.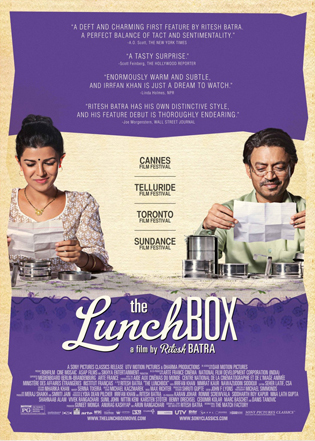 13. THE LUNCHBOX
This understated Indian film is a mesmerising, controlled, and funny drama about two people who accidentally connect through a misdelivered lunchbox. It's a film that, on a mechanical plot level, could only have been made in India, given the lunchbox delivery idea is so unique to that culture, and that is part of its charm. The remote relationship between the two leads is beautiful, with both characters stoically resigned to their unhappiness, very slowly allowing themselves to dream of something better. Every character in this is beautifully drawn, but the two protagonists are exceptional: Irrfan Khan is sublime as the retiring widow who rarely if ever smiles, and Nimrat Kaur owns every single moment as a woman trying to reclaim control over her life through food. Stunning filmmaking from writer/director Ritesh Batra.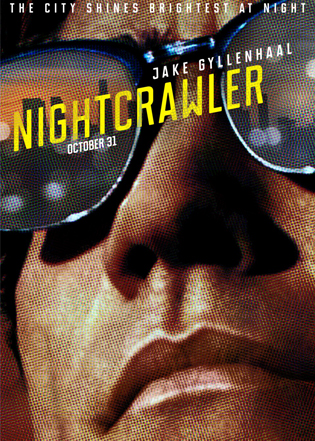 12. NIGHTCRAWLER
There's a lot to love about this film, but here's what I latched onto: the film is not about its psychopathic protagonist Lou Bloom, or, at least, it's not about his psychopathy. This film is an indictment of modern society, establishing the fact that we've created a culture in which a psychopath can not just survive, but thrive. The opening underlines that he should not be able to function in a traditional world, and it's only the modern world that creates an environment perfectly suited to his cutthroat skills. For this reason, despite its obvious roots in films such as Taxi Driver and Network, it is a film that could only be made now. Gyllenhaal's performance is possibly his best ever, emaciated with bulging, non-blinking eyes and a crocodile smile that make everything he says – every platitude he learned by rote from a book – sound both genuine and insincere. Intense, funny, and played like a horror film, Nightcrawler is a brutal and brilliant film.
11. THE GREAT BEAUTY
Paolo Sorrentino's The Great Beauty is not a film that defies interpretation by any stretch, and yet I am furiously resisting any interpretation, ignoring the film's many attempts to lure me into a deeper reading. The ethereal aesthetics of this film about a man who, on his 65th birthday, suddenly acknowledges the emptiness of his lavish lifestyle, is tactile in its illumination of the physical world, highlighting minor moments through patient misenscene and energetic, counterintuitive editing that recalls the best work of the World's Greatest Editor™ Thelma Schoonmaker. This is a stunning, funny, contemplative work that is confident and captivating and deeply satirical from its bombastic beginning to its gorgeous end.
10. TOM AT THE FARM
Xavier Dolan is one of cinema's true artists, utilising the medium for small dramas in a way that even the most bombastic of big budget directors cannot ever hope to match. This film, about a man attending the funeral of his boyfriend alongside a family who did not know their son was gay, is extraordinary, and the institutionalisation of Tom by his boyfriend's homophobic (and possibly closeted) brother is amazing to watch. The fact that Tom's blond mop makes him look like the October corn fields that surround the property suggests, at least visually, that he belonged there from the moment he arrived. Dolan's command of character and tension is superb, and the Bernard Hermann-esque score makes it feel as dangerous as a Hitchcock film. In that respect, the cornfield is far more North By Northwest than Field of Dreams, and I disconcerting note that "cornfield" is apparently the uniting factor amongst my favourite films. But it's Dolan's use of subtext that truly impresses: when Francis turns up wearing a ridiculous USA jacket, it suggests that he is taking the position of America, bullying countries one moment and then charming them the next; intimidating them with threats and manipulating them into doing their bidding. It's a somewhat spurious theory until the end credits, when Rufus Wainwright woefully croons about how sick he is of America, and Dolan's intention is undeniable.
9. GONE GIRL
Gillian Flynn's pulpy crime novel was a revelation to me: its writing was so deft and insightful, it read like a literary character piece that just happened to have a crime mystery for its spine. David Fincher's adaptation (written by Flynn) is astonishingly faithful to the original work, but translates it to film in a way that might not be as obvious as one would assume. Yes, it's a satire of modern marriage, but it's also an insightful examination of human behaviour, and not until the end does it reveal itself to be an actual comedy. This was not clear to me upon reading the book, underlining how various art forms bring the same story to light in markedly different ways. The literary tropes are maintained well, and Fincher is at his most admirably restrained ever. It's subtle, but a stunning and intelligent work that will blind many with its delicious plot machinations.
8. BIRDMAN, OR THE UNEXPECTED VIRTUE OF IGNORANCE
I've never liked any of Alejandro Gonzales Iñárritu's films, going right back to 2000's Amores perros, the film that proved to me in my post-film school years that I didn't just love all arthouse foreign films uncritically: here, finally, was one I hated! His English-language films have not won me over either, and so I found this concept difficult to balance with the trailer for Birdman, which presented an aesthetic and a concept that looked incredible. So, to me own supreme astonishment, I am declaring an Iñárritu film one of my absolute favourites of the year. It is not a parody of comic book movies the way I thought it might have been: with a few minor changes, this could have been made in the 1980s/1990s with an action star, or the 1960s/1970s with a cowboy. It's about the fakeness of worlds, with the false curtains of Broadway no more innately prestigious than Hollywood. Two fake worlds colliding as people search vainly for the truth, but still crave the false adulations. The deliberately-faked single take physically underscores this, entwining the message with the medium, and the result is a work of unfettered brilliance.
7. WHIPLASH
Some films possess a supreme understanding of character; others ramp up the tension; others still focus on process, the fascinating detail of a profession or world, which is why procedurals are so endlessly popular. A film can be successful if it gets any of these elements right. Whiplash doesn't just get all three right, but excels at them, creating a work that feels like it's gripped your nervous system in its white-knuckled fist for the entire running time. Miles Teller and JK Simmons are both superb as the drumming student and the driven, cruel music teacher respectively, and this feels like career-defining work for both of them. They are utterly inseparable from their characters, and writer/director Damien Chazelle – who between this and his script for Grand Piano, clearly loves punishing musicians – has such confidence in what to show and when to show it, you can't believe this is a directorial debut. This should be the sixth film of someone who's already established their credentials. As a first film, it's criminal. Few films will possess you the way this one does.
6. ONLY LOVERS LEFT ALIVE
The end result of Jim Jarmusch's vampire film is exactly what you would hope it to be: quiet, reflective, sombre. He takes tropes that so often annoy in the vampire genre (ageless vamps namechecking long-dead celebrities, for instance) and makes them soar. Jarmusch's sense of storytelling is unparalleled: it's almost as if he has a specific narrative pace all to himself. Only Lovers works because it's not your typical vampire metaphor, and their perspective is different to the norm in these tales: they see humanity as zombies destroying the world. We are the faceless monsters in the shadows. They are not destructive, consumptive people, but quiet beings who like the stillness of the night, solitude, and sustaining their world. They're the ones who can live happily and contentedly in a city that humans destroyed. It is a vampire story for our time, as they question whether the current destructive tendencies of mankind is worse than the other plagues they've lived through, a concept more terrifying and pertinent than any blood-sucking beast.
5. BLUE IS THE WARMEST COLOUR
The story of a girl exploring her sexuality, featuring lots of gay sex scenes and lengthy discussions of philosophy and art, feels like the quintessential stereotype of French cinema. I almost started laughing just typing that sentence. But Blue is the Warmest Colour is the genuine article, because despite its lofty ambitions, it remains incredibly grounded. We focus in on small moments, and leap chronologically forward in massive bounds, echoing the way in which we remember the key moments from our lives. Leads Léa Seydoux and Adèle Exarchopoulos ring true in every moment, and director Abdellatif Kechiche is unafraid to be completely on-the-nose with the title: the use of blue throughout the film is deliberate and dripping with meaning, and that meaning changes as the central relationship changes. It's such a simple idea that's emblematic of how simultaneously subtle and forthright this perfect film is at every given moment.
4. MR TURNER
When your partner loves something completely, you usually have only two options: you either leave the room whenever they engage with said passion, or you fall for it yourself. When my wife, possibly the biggest Mike Leigh fan in the world, introduced me to his works – and I mean all of them – I fell hard. Would I have been as enamoured if I hadn't been guided by someone so in love with them? I'll never know, but I'm happy in my ignorance. Because, as an avowed Mike Leigh fan myself, I was truly excited to see his long-promised dream project come to fruition: a biopic of painter JMW Turner. It seemed impossible, because Leigh's method of working does not lend itself to the sort of big budget required for such a film. Somehow, he made it happen, and based on what's on the screen, it seems as if he compromised absolutely nothing. Timothy Spall is transcendent as Turner, and if there was any remaining down that he's one of the greatest living actors, then this film should put those doubts to rest. The score by Gary Yershon is perfect, but it's Dick Pope's cinematography that's the standout. Pope has always been a great collaborator of Leigh's, capturing the stark reality of his works with aplomb, but this is something else entirely: Pope manages to recreate the look of Turner's paintings, something which should really be impossible outside of animation. It's outstanding work, and elevates this film to true greatness. This is Leigh's masterpiece, a dream project about a great artist that does justice to its subject, and leaves me dumbfounded at its depth and beauty.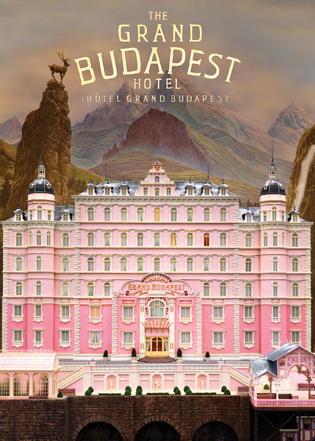 3. THE GRAND BUDAPEST HOTEL
Having loved every single one of Wes Anderson's films without exception – yes, even that one you're currently thinking about – it's difficult for me to pick favourites, but I wouldn't argue with anyone who called Budapest Anderson's best film since, say, Tenenbaums. Or even ever. Anderson creates small surfeits of chaos within extremely formal, two-dimensional-like tableaus. It's all theatrical fourth-wall stuff, with composition and movement along strong parallel lines. Humour comes from hubris disguised as politeness, instantaneous contradictions, moments of repetition and redundancy in speech. Budapest is the culmination of this style, the perfect execution of Anderson's worldview, and the Russian nesting doll of narrative parentheses is his ultimate statement of life in this funny, stunning film.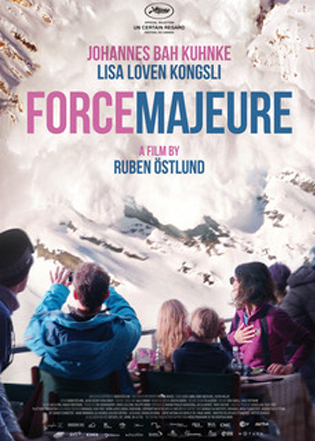 2. FORCE MAJEURE *
How can a film be so funny and so dramatic at the same time? How can I feel destroyed by it, but wish to immediately rewatch it? What is this black magic? When a father instinctively runs away from a potentially-fatal avalanche, leaving his family behind, the resulting tension of this abandonment causes schisms amongst the couple and their young children. The father has his own version of events that is at odds with what his wife (and we) saw happen. How do you come back from something like that? How do you hold your head up? The balancing act that writer/director Ruben Östlund pulls off is extraordinary, reaching deep into the fundamentals of what it is to be a man and a father and a protector, and yet he makes us laugh uproariously and often without ever undercutting the tension. By the time we reach the final act, every moment feels like an appropriate ending, a resolution of sorts. But each continuing coda adds a layer to our understanding of these people and the delicate, shifting balance of power they are undergoing. It is a remarkable, masterful work.
1. MOMMY *
The second Xavier Dolan film on this list is an unabashed masterpiece, and the most extraordinary experience I had in a cinema this year. It's a work so rich that you enjoy spending time with even its worst, most disagreeable characters. All three central performances in this story of a mother and her troubled teenage son are outstanding. Dolan's music choices are wonderfully daggy, predictable almost to the point of parody, but this is deliberate. It's the soundtrack of a 46-year-old woman, not a 25-year-old filmmaker: Oasis's Wonderwall, Dido's White Flag. Even as Steve skates along, miming to the hip-hop song he's listening to on his headphones, we hear Dianne's music choices over the vision. It's worth echoing the point I made above with Dolan's Tom at the Farm: at a time when everybody's speculating about the future of cinema, and when the virtue of playing smaller dramas on the big screen is increasingly questioned, Dolan plays with the physical form of cinema in a way that is almost never seen in drama. It's emotion as spectacle, and what Dolan is doing is revolutionary stuff. In a year of great cinema, great spectacle, and great emotion, nothing stood out quite like this.
New Release Films Seen In 2014: 47 Ronin, Jack Ryan: Shadow Recruit, Labor Day, Robocop, Blue is the Warmest Colour, Winter's Tale, The Grand Budapest Hotel, Tracks, The Wind Rises, In a World…, The Raid 2: Berandal, Nymphomaniac Part 1, Nymphomaniac Part 2, Captain America: The Winter Soldier, All Is Lost, The Dance Of Reality, Noah, Any Day Now, Only Lovers Left Alive, The Amazing Spider-man 2: The Rise of Electro, The Invisible Woman, Transcendence, Chef, Godzilla, X-Men: Days of Future Past, The Zero Theorem, 52 Tuesdays, The Babadook, Edge of Tomorrow, 20 000 Days on Earth, The Lunchbox, Joe, Boyhood, Love Is Strange, Life Itself, Frank, The Rover, Gabrielle, Under the Skin, Transformers: Age of Extinction, Words and Pictures, Dawn of the Planet of the Apes, Venus In Fur, Snowpiercer, And So It Goes, The Selfish Giant, A Most Wanted Man, Guardians of the Galaxy, Some Velvet Morning, Lucy, The Unknown Known, Predestination, Particle Fever, Salt of the Earth, Catch Me Daddy, Bloody Beans, Electric Boogaloo: The Wild Untold Story of Canon Films, Force Majeure, Fish & Cat, The Kill Team, Jacky in the Kingdom of Women, Keep On Keepin' On, Locke, Tresspassing Bergman, Goodbye To Language, Happy Christmas, Kumiko the Treasure Hunter, A Hard Day, The Grandmaster, Mommy, Jimmy's Hall, Appropriate Behaviour, German Concentration Camps Factual Survey, Finding Fela, The Kingdom of Dreams and Madness, Maidan, Jodorowsky's Dune, Magic in the Moonlight, Wish I Was Here, Life After Beth, Dinosaur 13, Night Moves, It Follows, Ne Me Quitte Pas, I Origins, Whitey: United States of America V James J Bulger, Patema Inverted, Listen Up Phillip, The Disappearance of Eleanor Rigby: Her, The Disappearance of Eleanor Rigby: Him, The Case Against 8, Enemy, Romeo & Juliet, The Double, Sin City: A Dame To Kill For, What We Do In The Shadows, Veronica Mars, Escape From Tomorrow, The Infinite Man, The Reckoning, Dom Hemingway, Blue Ruin, 300: Rise of an Empire, Grand Piano, Bad Neighbours, A Million Ways To Die in the West, Maleficent, Non-Stop, Bad Words, Muppets Most Wanted, The Monuments Men, Cheap Thrills, Belle, The Angriest Man In Brooklyn, Pompeii, My Sweet Pepperland, The Lego Movie, Gone Girl, Tom at the Farm, Winter Sleep, The Judge, Before I Go To Sleep, A Walk Among the Tombstones, Whiplash, This Is Where I Leave You, Obvious Child, A long Way Down, Kill the Messenger, Fury, Son of a Gun, Zero Motivation, Two Days One Night, Pride, John Wick, The Imitation Game, The Drop, Interstellar, They Came Together, Gett: The Trial of Viviane Amsalem, Mr Turner, The Green Prince, Maps to the Stars, Foxcatcher, The Hunger Games: Mockingjay Part One, Nightcrawler, The One I Love, Calvary, Housebound, Starred Up, Big Hero 6, Ping Pong Summer, Le Week-End, Serena, Healing, The Mule, The Normal Heart, The Immigrant, Exodus: Gods and Kings, Paddington, St Vincent, Into the Woods, A Girl Walks Home At Night, Big Bad Wolves, These Final Hours, Canopy, The Guest, The Theory of Everything, A Most Violent Year, Birdman or the Unexpected Virtue of Ignorance, White Bird in a Blizzard, At Berkeley, The Great Beauty, The Hobbit: The Battle of Five Armies, Wild, Unbroken, Paper Planes, Ruin, Felony, Tim's Vermeer, The Skeleton Twins, The Salvation, The Lookalike, The Hundred Foot Journey, Is the Man Who Is Tall Happy?, Manakamana, Still Alice, Salinger, Charlie's Country, Why Don't You Play In Hell?, The Go-Go Boys, The Water Diviner.
Older Films Seen In 2014: Sweet Smell of Success (1957), Real Life (1979), The Ruling Class (1972), Modern Romance (1981), Lost In America (1985), Defending Your Life (1991), Mother (1996), The Muse (1999), Looking For Comedy In the Muslim World (2005), The Last Battle (1983), Subway (1985), The Big Blue (1988), Atlantis (1991), La Femme Nikita (1990), Leon: The Professional (Director's Cut) (1994), The Messenger: The Story of Joan of Arc (1999), Angel-A (2005), Arthur and the Invisibles (2006), Arthur and the Revenge of Maltazard (2009), Arthur 3: The War of Two Worlds (2010), The Extraordinary Adventures of Adèle Blanc-Sec (2010), The Lady (2011), The Family (2013), X-Men (2000), X2 (2003), X-Men: The Last Stand (2006), X-Men Origins: Wolverine (2009), X-Men: First Class (2011), The Wolverine (2013), Uncle Buck (1989), Sixteen Candles (1984), The Breakfast Club (1985), Weird Science (1985), Ferris Bueller's Day Off (1986), Planes, Trains and Automobiles (1987), She's Having a Baby (1988), Curly Sue (1991), The Delinquents (1957), Countdown (1967), That Cold Day in the Park (1969), Fando Y Lis (1968), El Topo (1970), The Holy Mountain (1973), Tusk (1980), Santa Sangre (1989), The Rainbow Thief (1990), MASH (1970), Brewster McCloud (1970), McCabe and Mrs Miller (1971), Images (1972), The Long Goodbye (1973), Thieves Like Us (1974), California Split (1974), Caddyshack (1980), National Lampoon's Vacation (1983), Club Paradise (1986), Groundhog Day (1993), Stuart Saves His Family (1995), Multiplicity (1996), Analyze This (1999), Bedazzled (2000), Analyze That (2002), The Ice Harvest (2005), Year One (2009), The Royal Tenenbaums (2001), Dr T and the Women (2000), Cookie's Fortune (1999), Popeye (1980), Buffalo Bill and the Indians, or Sitting Bull's History Lesson (1976), 3 Women (1977), Nashville (1975), A Wedding (1978), Quintet (1979), A Perfect Couple (1979), HealtH (1980), Come Back to the Five and Dime, Jimmy Dean, Jimmy Dean (1982), Streamers (1983), Secret Honor (1984), Fool For Love (1985), Beyond Therapy (1987), Vincent & Theo (1990), The Player (1992), Short Cuts (1993), Permanent Vacation (1980), Stranger Than Paradise (1984), Down By Law (1986), Mystery Train (1989), Night On Earth (1991), Coffee and Cigarettes (2003), Dead Man (1995), Ghost Dog (1999), Broken Flowers (2005), The Limits of Control (2009), Year of the Horse: Neil Young and Crazy Horse (1997), Prêt-à-Porter (1994), Kansas City (1996), The Gingerbread Man (1998), Gosford Park (2001), The Company (2003), A Prairie Home Companion (2005), Nightmare In Chicago (1964), The Dumb Waiter (1987), The Caine Mutiny Court Martial (1988), Rattlesnake In a Cooler (1982), Blade Runner (The Final Cut) (1982), Planet of the Apes (1968), Beneath the Planet of the Apes (1970), Escape From the Planet of the Apes (1971), Conquest of the Planet of the Apes (1972), Battle For the Planet of the Apes (1973), Planet of the Apes (2001), Rise of the Planet of the Apes (2011), Sugar Cane Alley (1983), A Dry White Season (1989), Siméon (1992), Aimé Césaire: A Voice For History (1994), Ruby Bridges (1998), The Killing Yard (2001), Parcours de Dissidents (2006), Bob & Carol & Ted & Alice (1969), Alex In Wonderland (1970), Blume In Love (1973), Harry and Tonto (1974), Next Stop, Greenwich Village (1976), An Unmarried Woman (1978), Willie & Phil (1980), Tempest (1982), Moscow on the Hudson (1984), Down and Out In Beverly Hills (1986), Moon Over Parador (1988), Enemies: A Love Story (1989), Scenes From a Mall (1991), The Pickle (1993), Faithful (1996), Winchell (1998), Coast To Coast (2003), Yippee (2006), Full Frontal (2002), Our Idiot Brother (2011), Zulu Dawn (1979), Touchy Feely (2013), Life Is Sweet (1990), Green Street Hooligans (2005), Punisher: War Zone (2008), Cry-Baby (1990), Serial Mom (1994), Chocolat (1988), No Fear, No Die (1990), I Can't Sleep (1994), Nénette et Boni (1996), Beau Travail (1999), Trouble Every Day (2001), Friday Night (2002), The Intruder (2004), M (1931), Verse Mathilde (2005), 35 Shots of Rum (2008), Harvey (1950), White Material (2009), Bastards (2013), Tales From the Gimli Hospital (1988), Archangel (1990), Careful (1992), Twilight of the Ice Nymphs (1997), Dracula: Pages From a Virgin's Diary (2002), Cowards Bend at the Knee, or the Blue Hands (2003), The Saddest Music in the World (2003), Brand Upon the Brain! (2006), My Winnipeg (2007), Keyhole (2011), Field of Dreams (1989), Jour de Fete (1949), M. Hulot's Holiday (1953), Mon Oncle (1958), Playtime (1967), Trafic (1971), Parade (1974), Batman (1989), Eyewitness (Sudden Terror) (1970), Twins of Evil (1971), Treasure Island (1972), The Legend of Hell House (1973), Dirty Mary Crazy Larry (1974), Escape To Witch Mountain (1975), Return From Witch Mountain (1978), Brass Target (1978), The Watcher in the Woods (1980), Incubus (1982), Triumphs of a Man Called Horse (1983), Black Arrow (1985), Biggles: Adventures In Time (1986), A Hazard of Hearts (1987), American Gothic (1988), Howling IV: The Original Nightmare (1988), The Lady and the Highwayman (1989), A Ghost In Monte Carlo (1990), Bad Karma (2002), Zulu (1964), Three Bewildered People in the Night (1987), The Living End (1992), Totally F***ed Up (1993), The Doom Generation (1995), Nowhere (1997), Splendor (1999), Mysterious Skin (2004), Smiley Face (2007), Kaboom (2010), It's a Wonderful Life (1946), Broadcast News (1987), All the President's Men (1976), Help! (1965).
Short Films Seen In 2014: The Impossible Truth (1975), Home Moves (1975), Heart Surgery (1975), Mid-Season Replacement Shows (1975), Sick In Bed (1975), The National Audience Research Institute (1976), Amateur Hour (2014), Fresh Guacamole (2012), Baby Baby (2014), Afronauts (2014), The Immigrant (1917), Twenty Minutes of Love (1914), The Heart of the World (2000), Guy Maddin: Waiting For Twilight (1997), Odilon Reddon or the Eye Like a Strange Balloon Mounts Toward Infinity (1995), It's My Mother's Birthday Today (2008), Footsteps (2008), 97% True (2008), Sissy-Boy Slap-Party (1995), Sombra Dolorosa (2004), A Trip To the Orphanage (2004), Nude Caboose (2006), Odin's Shield Maiden (2007), The Little White Cloud That Cried (2009), Send Me To the 'Lectric Chair (2009), The Dead Father (1985), On Demande Une Brute (1934), Gai Dimanche (1935), Soigne Ton Gauche (1936), L'École des Facteurs (1946), Cours du Soir (1967), Déguestation Maison (1976), Forza Bastia (1978), Wolfshead: The Legend of Robin Hood (1969), Feast (2014), This Is How the World Ends (2000), Cold War (2014), AD/BC (2004).
* this film was released in Australia by Sharmill Films, where my wife is the marketing manager