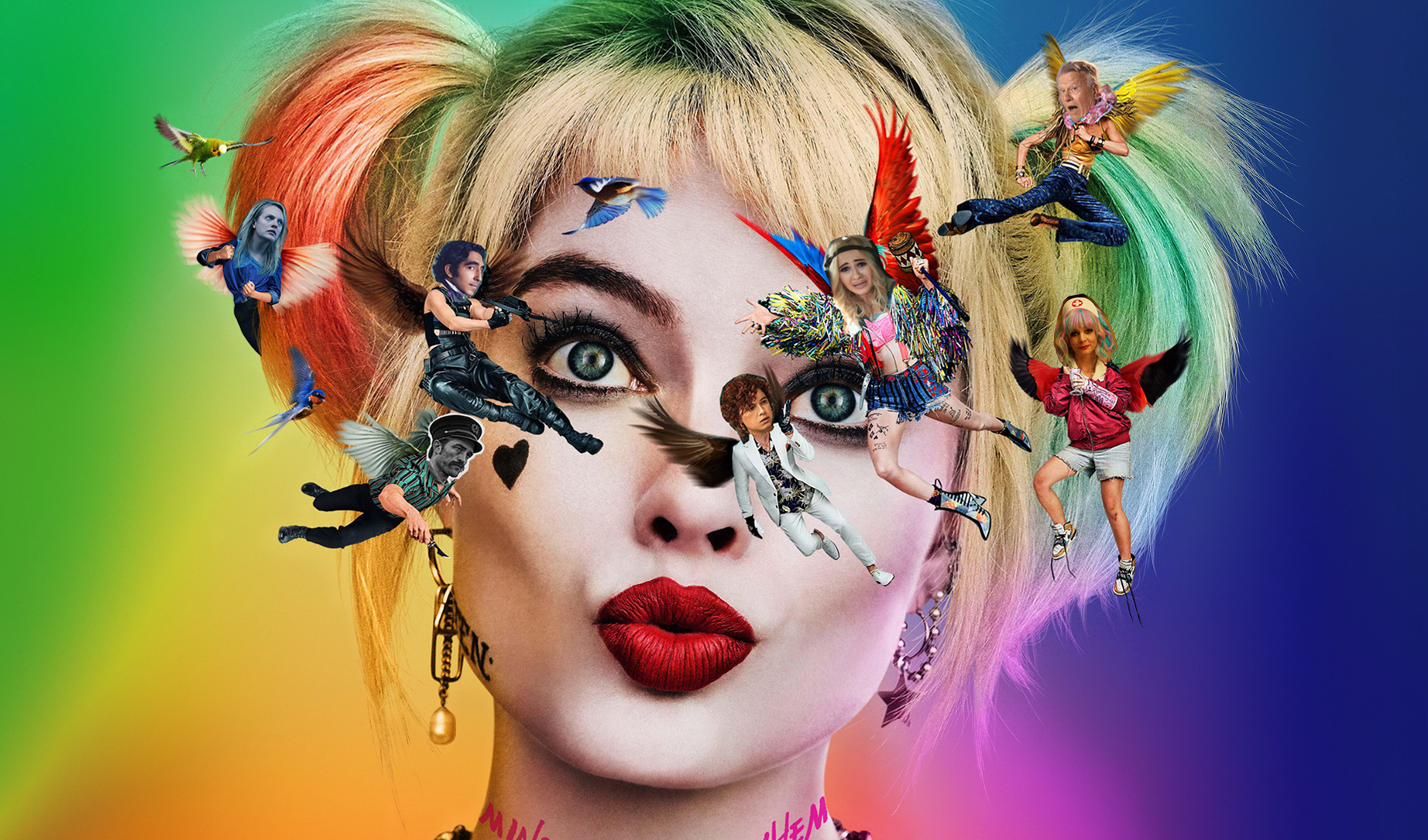 You might think that this year delivered us a paucity of new films from which to choose from, but that's defeatist talk. It was incredibly easy to find ten new films that left an indelible impression on me in 2020.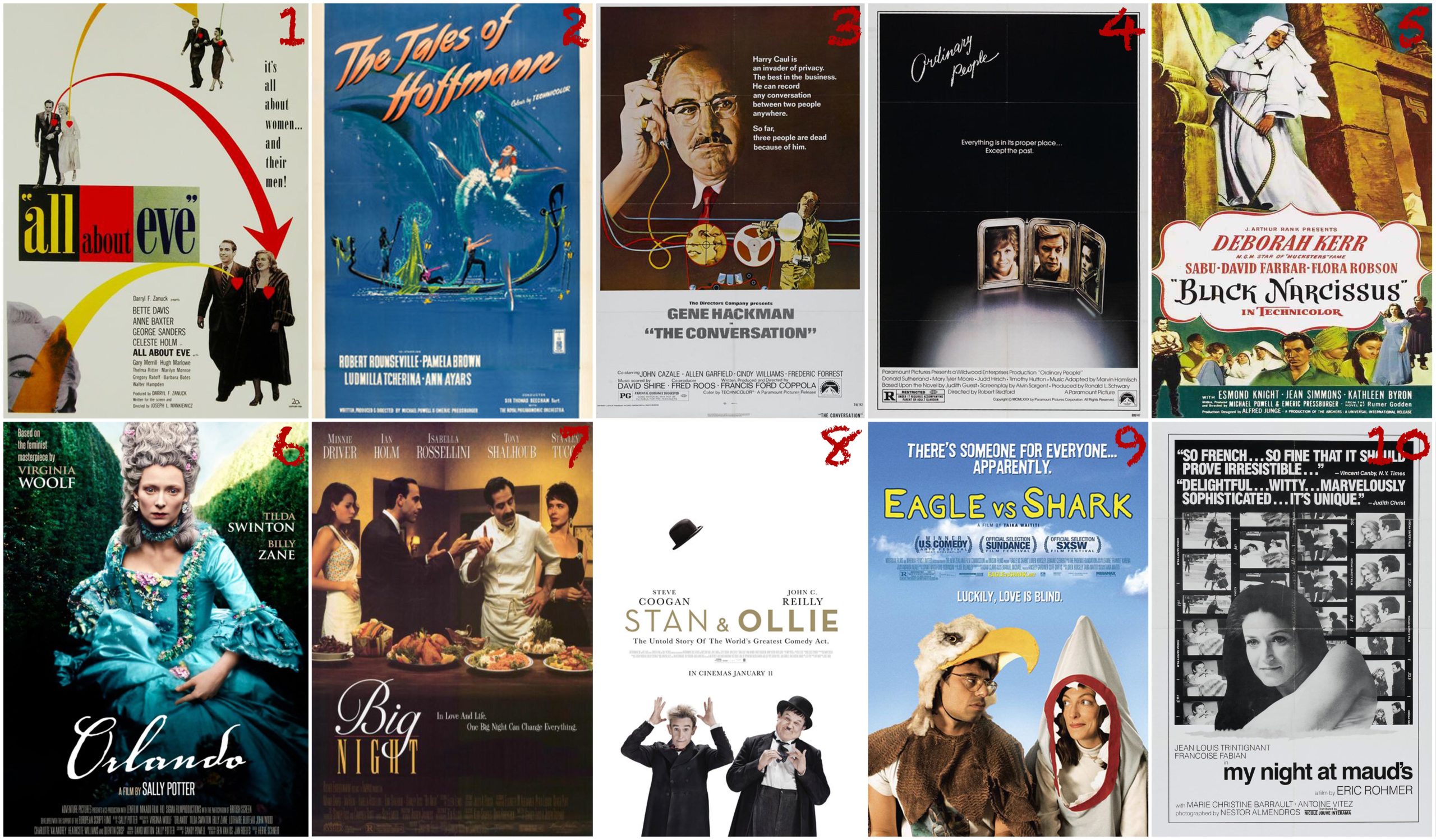 I'm only half kidding about those. At the halfway point of 2020 I'd seen exactly seven new releases, so for most of the year I was adamant that this list of previously-unseen classics was going to be it. (And the cover image was briefly going to go the other way, featuring films that were supposed to come out this year but were pushed to 2021: Black Widow, No Time To Die, Dune, etc.) This post was, for a long time, going to be an unavoidable illustration of what a weird gutpunch this year was, with just the slightest hint of sincerity. All About Eve is so, so great.
But then things opened up a bit – at least in the intangible realm of streaming platforms – and instead of struggling to reach the arbitrarily-round number of 10 great films of the year, I found myself unable to get the list down to 10. Every year there are a few beloved stragglers hovering beside the podium (true this year as well), but culling two of the below from the final tally felt strangely dishonest.
This year, the page break definitely came to rest outside the top 12, and why argue? There's no reason anyone should care. Really, those of us compelled to make these lists year after year should change that final number each and every time, get under our own skins and do a top 14 one year and a top 4 the next. This endeavour is inherently rigid, there should be at least one element of chaos in there.
But no prime numbers, obviously. The grid remains sacred.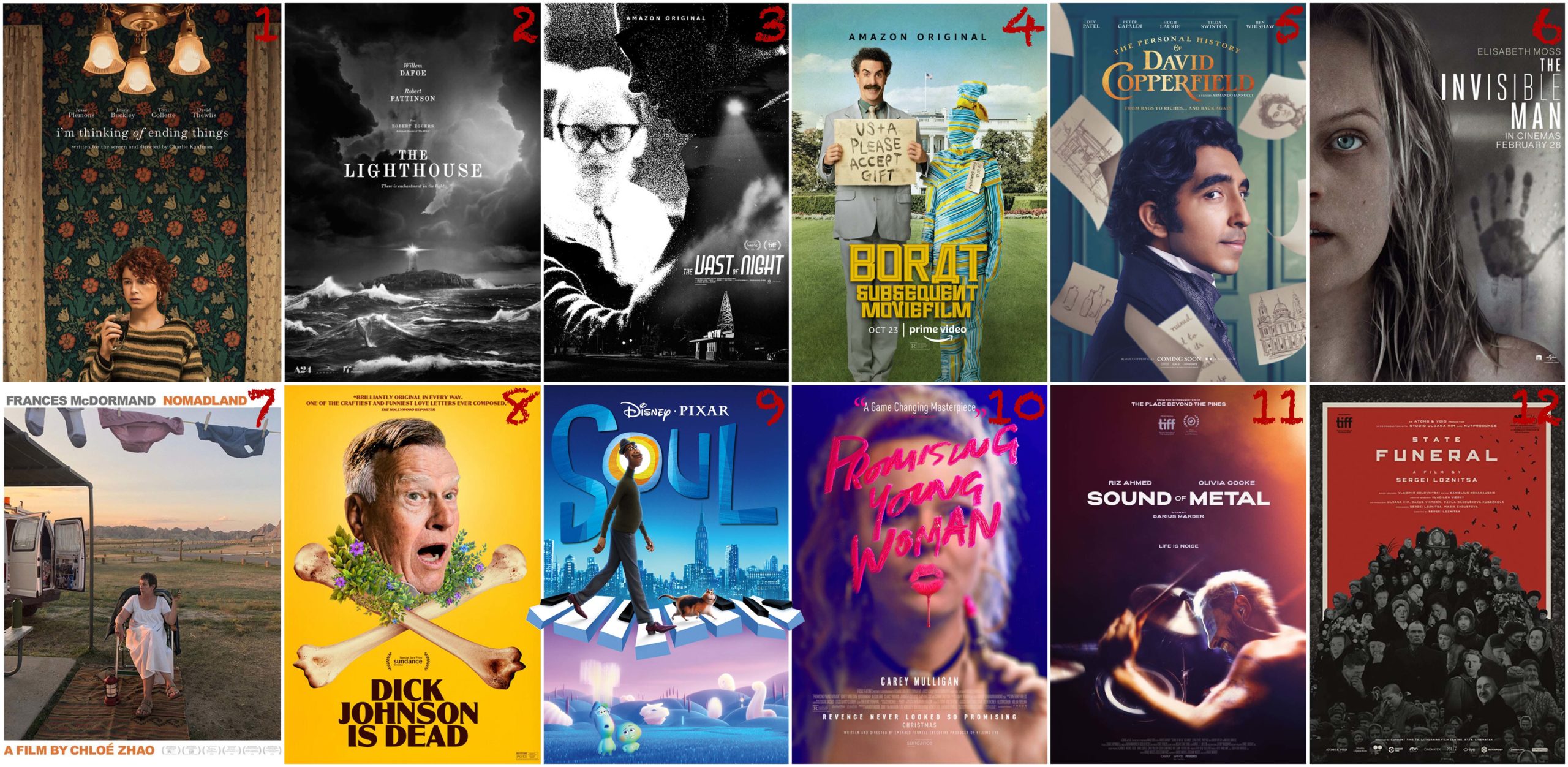 New Release Films Watched in 2020
Little Women, Uncut Gems, Red Dwarf: The Promised Land, Onward, The Vast of Night, Da 5 Bloods, The Wave, Eurovision: The Story of Fire Saga, Relic, Servants, Rose Plays Julie, Speak So I Can See You, State Funeral, La Lorona, The True History of the Kelly Gang, I'm Thinking of Ending Things, Greyhound, The Devil All the Time, Enola Holmes, Birds of Prey (and the Fantabulous Emancipation of One Harley Quinn), My Octopus Teacher, The Trial of the Chicago 7, Jay and Silent Bob Reboot, Guns Akimbo, Motherless Brooklyn, Rebecca, Borat Subsequent Moviefilm, On the Rocks, The Personal History of David Copperfield, Proxima, The Lighthouse, The Invisible Man, The Old Guard, Extraction, Emma., Just Mercy, Underwater, Palm Springs, Shirley, Hillbilly Elegy, Dick Johnson Is Dead, His House, Bombshell, Mank, Sweet River, Bill & Ted Face the Music, Babyteeth, Tenet, Hamilton, Dark Waters, Ma Rainey's Black Bottom, A Beautiful Day in the Neighbourhood, The Gentlemen, Soul, Wolfwalkers, Wonder Woman 1984, Sound of Metal, Nomadland, Promising Young Woman.
Older Films Watched in 2020
Vertigo (1958), A Night at the Opera (1935), Blade Runner (The Final Cut) (1982), All the President's Men (1976), The Edge of the World (1937), The Lion Has Wings (1939), Contraband (1940), 49th Parallel (1941), One of Our Aircraft is Missing (1942), The Life and Death of Colonel Blimp (1943), A Canterbury Tale (1944), I Know Where I'm Going! (1945), A Matter of Life and Death (1946), Black Narcissus (1947), The Red Shoes (1948), The Small Back Room (1949), Gone To Earth (1950), The Elusive Pimpernel (1950), Tales of Hoffman (1951), The Wild Heart (1952), Oh… Rosalinda! (1955), The Battle of the River Plate (1956), Ill Met By Moonlight (1957), Lune de Miel (Honeymoon)(1959), The Thief of Bagdad (1940), Demolition Man (1993), Peeping Tom (1960), Bluebeard's Castle (1963), The Queen's Guards (1961), They're a Weird Mob (1966), Age of Consent (1966), Age of Consent (1969), The Boy Who Turned Yellow (1972), Dr Who and the Daleks (1965), Daleks' Invasion Earth 2150 AD (1966), The Ghoul (1975), The Wild Blue Yonder (2005), Heathers (1988), 6 Underground (2019), Aladdin (2019), A United Kingdom (2016), Shazam! (2019), Hannah Arendt (2012), I, Tonya (2017), The Eagle Has Landed (1976), The Boys From Brazil(1978), The Fabulous Baker Boys (1989), Wreck-It Ralph (2012), Ralph Breaks the Internet (2018), Searching For Bobby Fischer (1993), Pawn Sacrifice (2014), American Pastoral (2016), Joe Versus the Volcano (1990), X-Men: Dark Phoenix (2019), The Spy Who Came in From the Cold (1965), Orlando (1992), Eye in the Sky (2015), Spider-man: Far From Home (2019), Jasper Jones (2017), Maggie's Plan (2015), John Wick (2014), John Wick: Chapter 2 (2017), John Wick: Chapter 3 – Parabellum (2019), Big Night (1996), The Jungle Book (1967), The Jungle Book (2016), Mowgli(2018), Catch-22 (1970), The Gambler (1974), Blade Runner 2049 (2017), Miles Ahead (2015), Reds (1981), Midnight Express (1978), Ordinary People (1980), Film Stars Don't Die in Liverpool (2017), The House With a Clock in its Walls (2018), A Simple Favour (2018), The January Man (1989), Eddie the Eagle (2015), All About Eve (1950), Eagle vs Shark (2007), The Conversation (1974), How Green Was My Valley (1941), Dr No (1962), Gone With the Wind (1939), Unicorn Store (2017), From Russia With Love (1963), The Hunt For Red October (1990), A Yank in the RAF (1941), Agora (2009), Goldfinger (1964), That's Not Me (2017), The Long Good Friday (1980), Thunderball(1965), Barbarella (1968), Bone Tomahawk (205), Top End Wedding (2019), Aguirre, the Wrath of God (1972), You Only Live Twice (1967), Whatever Happened To Baby Jane? (1962), Downfall (2004), The Social Network (2010), Casino Royale (1967), Showboat (1951), Hot Rod (2007), Don't Worry, He Won't Get Far on Foot (2018), Rocketman(2019), Long Shot (2019), On Her Majesty's Secret Service (1969), Steve Jobs (2015), Gemini Man (2019), Hustlers(2019), Diamonds Are Forever (1971), Juliet, Naked (2019), Danger Close (2019), The Nightingale (2018), Charlie's Angels (2019), Live and Let Die (1973), Monster (2003), The Guernsey Literary & Potato Peel Society (2018), Sommersby (1993), Last Christmas (2019), The Man With the Golden Gun (1974), Lady Macbeth (2016), Ophelia(2018), To Kill a Mockingbird (1962), Cleopatra (1963), The Spy Who Loved Me (1977), Mulan (1998), For Your Eyes Only (1981), Like Water For Chocolate (1992), Caravaggio (1986), Frida (1992), Octopussy (1983), Marshall (2017), Mississippi Burning (1988), LBJ (2016), All the Way (2016), Never Say Never Again (1984), Gothic (1986), Mom and Dad (2017), The Wind (2018), A View To a Kill (1985), Mary Queen of Scots (2018), The Good Liar (2019), The Living Daylights (1987), Borg McEnroe (2017), The Bookshop (2017), Hearts Beat Loud (2018), License To Kill (1989), I Think We're Alone Now (2018), Ideal Home (2018), The Man With the Golden Arm (1955), GoldenEye (1995), The Best Man (1964), Advise & Consent (1962), Venus (2006), Tomorrow Never Dies (1997), Ford vs Ferrari (2019), Canadian Bacon (1995), Mr Pip (2012), The World Is Not Enough (1999), My Night At Maud's (1969), Die Another Day (2002), Casino Royal (2005), Judy (2019), Stan & Ollie (2019), Quantum of Solace (2008), Official Secrets(2019), Skyfall (2012), Emma (1996), Spectre (2015), Vox Lux (2018), Bad Influence (1990), Before We Go (2014), Shanghai Surprise (1986), Zodiac (2007), Bill & Ted's Excellent Adventure (1989), Bill & Ted's Bogus Journey (1991), It's a Wonderful Life (1946).
Short Films Watched in 2020
Smith (1939), What Did Jack Do? (2017), Papers, Please (2018), The Volunteer (1944), Return to the Edge of the World (1978), Playdate With Destiny (2020), Out (2020).